Video contest winners named
Winnners of the NITC Student Video Contest were announced at the Transportation and Communities Summit Sept. 9 in Portland. The finalist videos and winners are linked below:
---

NITC student video competition
The USDOT'S National Institute for Transportation and Communities is seeking videos to highlight the role transportation plays in creating livable communities. All university students are invited to enter! Create an original, interesting video that illustrates how transportation can shape the way residents experience a city.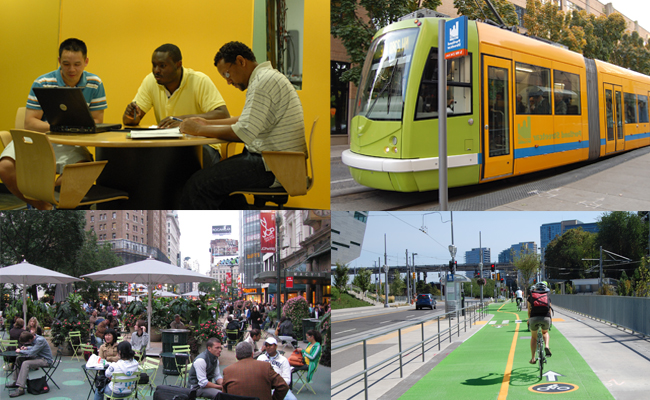 Your entry may be seen by transportation professionals from all across the country: winning videos will be screened at the Transportation and Communities Summit in Portland, Oregon in September 2016. The Grand Prize winner will be awarded free travel and attendance to the Summit in addition to a cash prize of $4,000. Other prizes to be awarded are:
Second place - $1,750
Third place - $1,000
Top entry from NITC sponsored school - $500*
Videos must incorporate the NITC theme of safe, healthy and sustainable transportation choices to foster livable communities while answering one of the following questions:
Can you explain the connection between livability and transportation in a way that can reach, for example, traffic engineers, elected officials, local business owners, and a classroom of elementary school students and their parents?

What role can you and your peers play in creating transportation systems that support livable communities?

How would you convince youth why transportation and livable communities would be a great career?

If you were the Secretary of Transportation, how would you make the nation's transportation system support livable communities?
Judging
To win, your entry must show:
Creativity and execution
Inclusion of NITC theme
Transportation focus
Clarity of presentation for policy-makers, business owners, and the general public
Creative use of social media
Incorporation of research results**
Eligibility:
The contest is open only to active full-time undergraduate or graduate students currently enrolled in a 2-4 year college or university within the 50 United States & the District of Columbia. Student must be a US citizen or permanent resident to receive the monetary prize. Students who are non-US citizens or permanent residents are able to receive travel stipends.
Additional Requirements:
Videos must be between 3-5 minutes.
Students may compete individually, or in teams up to 4 members.
Entries must contain either end credits or a works cited list.
Watch some recent Streetfilms for inspiration:
For more inspiration, check out the submissions to the USDOT's data visualization student challenge.
* This can be in addition to other prizes, if a video from a NITC school is also one of the top three.
**  http://trid.trb.org/ and http://nitc.trec.pdx.edu/research are excellent resources to find research.
Questions? Email asktrec@pdx.edu.