The Transportation and Communities Summit was established in 2009. It was originally known as the Oregon Transportation Summit, back when TREC was known as OTREC. It is now TREC's flagship professional development event and has become the Pacific Northwest's premier transportation conference.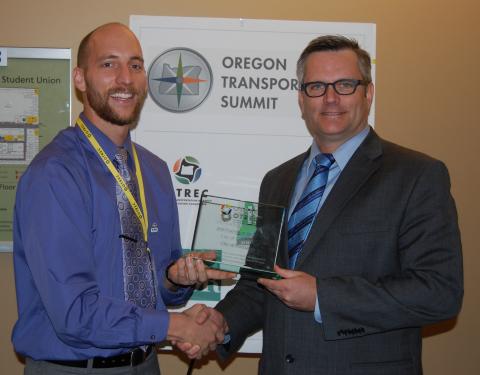 The Summit has brought together professionals from all areas of transportation: planners, engineers, advocates, policymakers and community leaders.
The conference, which expanded to a two-day event in 2016, now offers interactive workshops along with breakout sessions, networking opportunities, and popular keynote speakers who offer an outside-the-industry perspective. The event has grown rapidly in the last seven years, and continues to grow as we draw in professionals from all over the United States.
Photo: Sam Adams (right), then mayor of Portland, accepts the 2010 OTREC partner of the year award on behalf of the city of Portland from Jon Makler (left), former OTREC Education and Technology Transfer Program Manager, at the first Oregon Transportation Summit.
Archive of previous summits:
2017 Transportation and Communities Summit
2016 Transportation and Communities Summit
2015 Transportation and Communities Summit
2014 Oregon Transportation Summit
2013 Oregon Transportation Summit
2012 Oregon Transportation Summit
2011 Oregon Transportation Summit
2010 Oregon Transportation Summit
First Summit: 2009 Oregon Transportation Summit (no archived materials available)