Friday, March 9, 2018,

9:00am

to

4:00pm

PST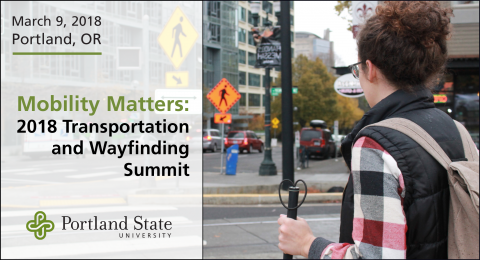 This one-day summit is co-hosted in partnership with Portland State University's Graduate School of Education (GSE)
Learn about the latest approaches and technologies to access transportation systems for diverse members of our community, especially people with visual impairments. With effective wayfinding technologies and community partnerships, innovations support all people in accessing transportation and connecting with the community. Learn more from our experts on travel planning, wayfinding, and designing systems that support access for all people.
After this workshop you will be able to:
Describe recent innovations that support wayfinding and travel for individuals with visual impairments 
Identify important considerations in community design that include individuals with visual impairments and other disabilities 
Identify innovations in universal transportation design 
Share conversations that lead to solutions for wayfinding and access 
Contribute to a shared blueprint for community-based solutions to transportation
Registration Costs
Includes light breakfast, breaks, and lunch
General Admission (Early Bird - ends January 17): $75
General Admission (Regular - Jan 18 - March 1): $100...
Read more
Monday, July 2, 2018, 8:00am PDT

to

Friday, July 13, 2018, 5:00pm PDT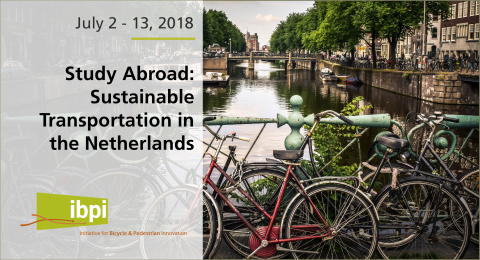 Brought to you by our Initiative for Bicycle and Pedestrian Innovation program, this four-credit, two-week course presents an introduction to transportation engineering applications in the European context. It will build on earlier courses with a special emphasis on differences between U.S. and Dutch standards, and will feature material that provides a contrast between engineering and planning principles and policies.
Furthermore, specific emphases on engineering and planning principles and practice will be explored through field trips and in guest lectures both while abroad and in Portland. Students completing this course will have a greater understanding of the contrast in policies between communities in U.S. and the Netherlands. No previous language study required.
Come rent your fiets and experience some of the best biking infrastructure in the world!
LEARN MORE
Read more
Pages