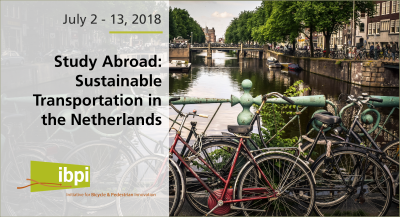 Event Date:
Monday, July 2, 2018, 8:00am PDT
to
Friday, July 13, 2018, 5:00pm PDT
Brought to you by our Initiative for Bicycle and Pedestrian Innovation program, this four-credit, two-week course presents an introduction to transportation engineering applications in the European context. It will build on earlier courses with a special emphasis on differences between U.S. and Dutch standards, and will feature material that provides a contrast between engineering and planning principles and policies.
Furthermore, specific emphases on engineering and planning principles and practice will be explored through field trips and in guest lectures both while abroad and in Portland. Students completing this course will have a greater understanding of the contrast in policies between communities in U.S. and the Netherlands. No previous language study required.
Come rent your fiets and experience some of the best biking infrastructure in the world!
LEARN MORE
---
APPLICATION: Not yet open, deadline is early 2018. Contact us at asktrec@pdx.edu if you'd like to be notified when applications open.
ELIGIBILITY: This program is open to both PSU Students and non-PSU students and practitioners who meet the program eligibility requirements. To apply, you will need to complete the same application process as PSU students. Once accepted, you will need to enroll as a non-degree seeking student at PSU ($25 fee).
INSTRUCTOR: Kelly Clifton, Portland State University
DATE: July 2–13, 2018
TOTAL COST: (estimated) $5,700
---Program fee/Tuition [housing, bike rental, train tickets]: $3,000
---Additional estimated costs [airfare, meals, personal expenses]: $2,700
PSU COURSE #: CE 495/595: Sustainable Transportation in the Netherlands, Summer Term 2018
PSU COURSE CREDIT: 4 credits