Why Near Misses Matter
Location:
Portland State University, Parsons Gallery (Urban Center 212G)
June 30, 2016 10:00 am - June 30, 2016 11:00 am
Guest Lecturer Rachel Aldred, University of Westminster
Cycling is currently a hotly debated political and policy issue, especially in relation to safety. While research has studied serious injuries and deaths, this project targets a more common, yet under-researched phenomenon: the 'ordinary' experience of near misses and other non-injury incidents (from incivilities and low-level harassment to SMIDSY: 'sorry mate, I didn't see you').
Near miss and related incidents are common, according to a pioneering study in Oxford in the early 1990s. More recent work in Middlesex suggests close passes (under 50cm) may happen with predictable regularity for commuting cyclists, while an Australian study highlights experiences of deliberate abuse and harassment.
Yet apart from this work, there remains little research into non-injury incidents. We don't know, for example, how often they happen to UK cyclists, and how this varies. This is a substantial missed opportunity, both to improve people's experiences of cycling, and to use our knowledge of near misses to prevent injuries. The latter is commonplace in other areas of transport such as rail and air but near-absent for cycling.
This lecture will introduce the Near Miss project, which seeks to research, analyze and document cycling near misses, and contribute to training drivers and transport professionals. It will further enable the cycling public to discuss experiences of near misses and related incidents, the effect that these have had, and their views about preventing such incidents.
TREC is hosting this event, in partnership with the Oregon Health Authority.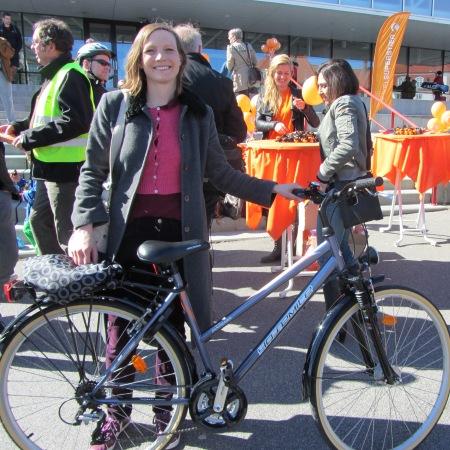 Dr. Rachel Aldred is Senior Lecturer in Transport at the University of Westminster. She runs Westminster's MSc Transport Planning and Management program. She also sit on the editorial board of Transport Reviews. She is on the 2016 shortlist for the ESRC Outstanding Impact in Public Policy Prize. One of her research projects (Near Miss Project) was awarded Cycling Initiative of the Year 2015 by Total Women's Cycling. She is also, according to BikeBiz, one of the 100 Women of the Year of 2015. Since November 2012 she has twice been elected as a Trustee of the London Cycling Campaign and she is Chair of its Policy Forum.
She is also working with Dr. James Woodcock on England's National Propensity to Cycle Tool.
Share this: