Join us for lively PechaKucha and Poster sessions. Presenters in these sessions signed up to partcipate through an Open Call process. If you would like to participate in next year's Open Call, the process typically runs from March to May.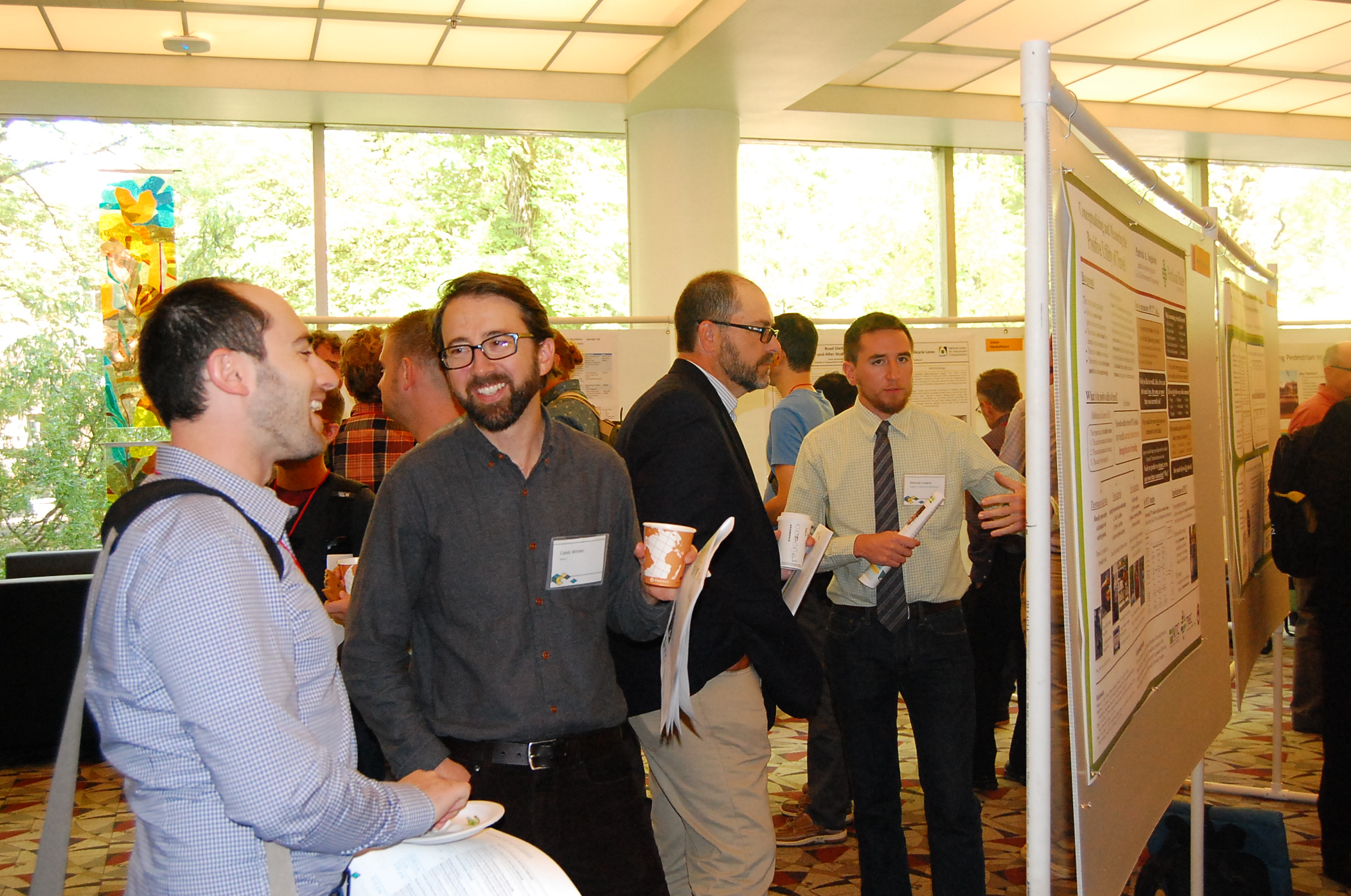 PechaKucha Presentations
This year, we are introducing a PechaKucha session as one of the breakout session options. The PechaKucha session will be devoted to sharing innovative transportation ideas. A PechaKucha (Japanese for chit-chat) is a presentation that consists of 20 slides, with each slide presented for 20 seconds. Presenters will present back-to-back creating an exciting series of fast-paced presentations.
The Better Naito Story
This presentation will explore the story of the "Better Naito" demonstration project from its inception in 2015 to the present day. 
Presenter: Gwen Shaw, Toole Design Group
A Survey of Advisory Bike Lanes in North America
Advisory bicycle lanes (ABLs) are a roadway striping configuration which provides a single travel lane for two-way motor vehicle travel flanked by bike lanes on both sides. 
Presenter: Michael Williams, Portland State University
Safer Transportation for Every Pedestrian (STEP)
Pedestrians are among the most vulnerable road users, accounting for approximately 16 percent of all roadway fatalities in 2015. 
Presenter: Peter Eun, FHWA Resource Center
Electric Vehicles and Transportation in Underserved Communities
Traditionally underserved communities face higher rates of pollution from nearby freeways, railroads and railyards, airports, factories and waste sites.
Presenter: Zach Henkin, Forth
The Pedestrian's Tale
Despite a declared commitment to Vision Zero and policies that ostensibly prioritize walking above other modes, Portland is stagnating in terms of walkability, and pedestrian fatalities continue apace.
Presenter: Brian Davis, Lancaster StreetLab
Walking and bicycling for health and happiness: Exploring the positive utility of travel and mode choice
The "positive utility of travel" (PUT) concept suggests that travel may provide benefits and be motivated by factors beyond simply reaching a destination.
Presenter: Patrick Singleton, Portland State University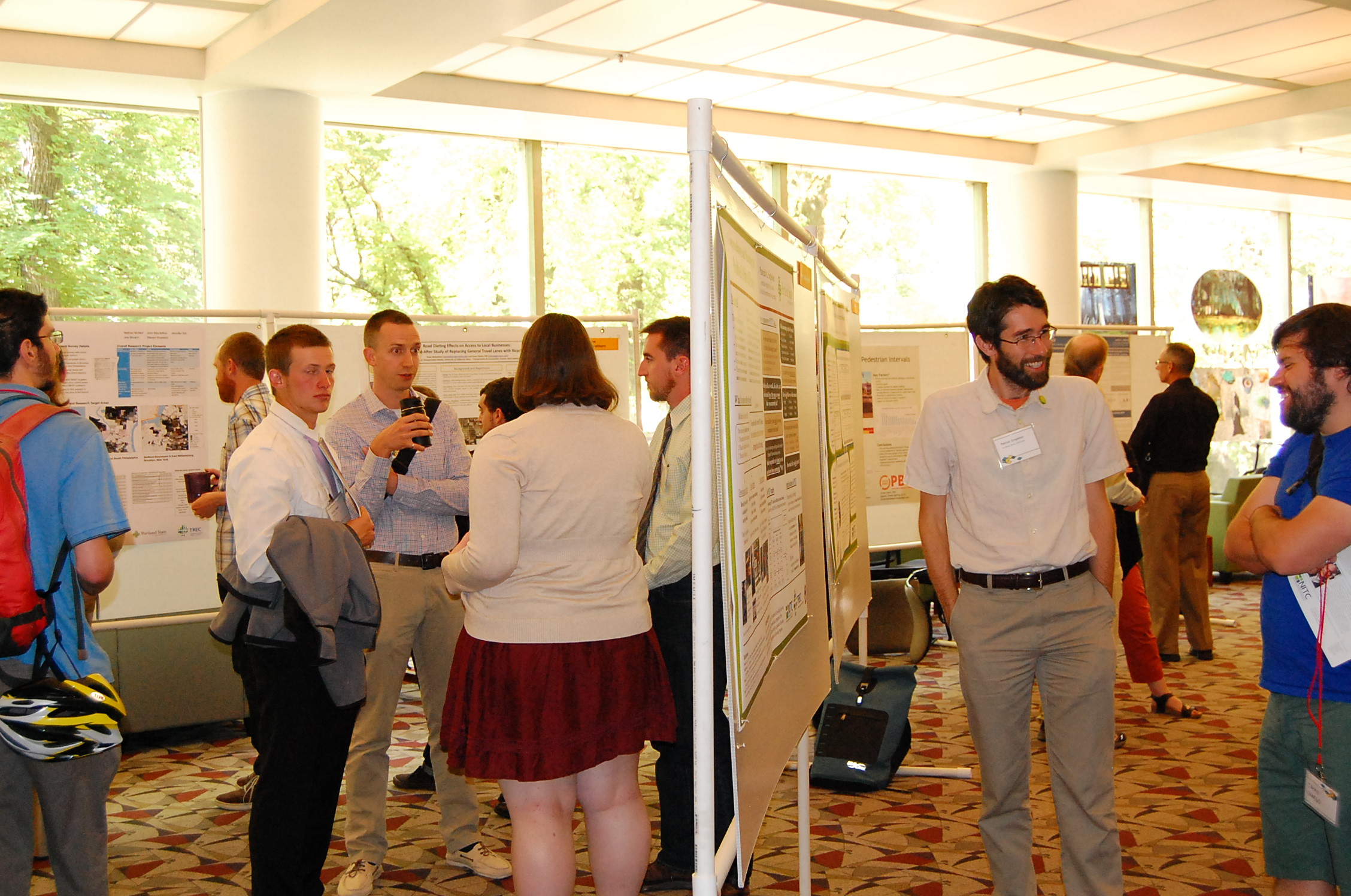 Posters
During breaks between breakout sessions, posters of the latest transportation research by NITC researchers and practitioners from all over the U.S. will be displayed on the 2nd floor lounge. Join us for insights, explorations, and lively conversations.
A Guidance in Logistics and Safety Investments through Logistics Activity Center (LAC) Development Criteria Analysis
Seckin Ozkul, Research Associate Faculty, Center for Urban Transportation Research at USF
Efficient freight movement effects a geographic area's economy, public safety and overall quality of life. Previous studies have found that freight and logistics investments in Logistics Activity Centers (LACs) fuel economic development, and that keeping this logistics activity in a specified region increases public awareness and safety. To help guide the appropriate investments for successful LAC development, this research focused on the determination of optimized location criteria for LAC development potential. 
Safer Transportation for Every Pedestrian
Peter Eun, Safety Engineer, FHWA Resource Center
Pedestrians are among the most vulnerable road users, accounting for approximately 16 percent of all roadway fatalities in 2015. Pedestrians are especially vulnerable at non-intersection locations. Uncontrolled crossing locations include intersections with inadequate pedestrian crossing facilities and/or insufficient or inconvenient crossing opportunities.
Characterizing Travel Behavior Zones in Los Angeles
Karina Macias, Transportation Planner, Los Angeles Department of Transportation
The Travel Behavior Zone (TBZ) Index was developed by the City of Los Angeles to help estimate effectiveness of transportation demand management (TDM) within different built environment contexts. With a local jurisdiction boundary that captures 469 square miles and encompasses diverse neighborhood typologies (ranging from low density rural to high density urban communities), City staff devised a method to define the City's varying built environment to calculate the vehicle trip reduction benefits of TDM strategies. 
Road Diet v2.0
Michael Williams, Graduate Student, Portland State University
A normal road diet transforms a 4-lane undivided road into a 3-lane road consisting of two travel lanes separated by a two-way-left-turn-lane (TWLTL). But what is required to go one step, or one lane, further? 
Analyzing the relationships of walking and the built environment
Jaime Orrego, Graduate Student, Portland State University
There is increasing interest in research that connects land use planning and transportation investments that can support walking for transportation and health. Despite the wealth of research over the last years, planners still lack basic knowledge to help them plan for the walking outcomes. 
Respectful Workplaces: Retaining Oregon's Diverse Apprentices
Maura Kelly, Associate Professor of Sociology, Portland State University
This poster will provide information about the Respectful Workplaces initiative in the Oregon highway construction trades, which is intended to reduce harassment and discrimination on construction job sites. The poster will provide an overview of the different elements of the Respectful Workplace initiative as well as some preliminary data from the evaluation research on one or more of our pilot job sites.
Fourth Plain Forward Pedestrian Safety and Access Implementation Strategy
Rae-Leigh Stark, Planner II, Toole Design Group
The Vine, Vancouver's first BRT, opened on Fourth Plain Blvd. TDG conducted a pedestrian network analysis to understand the extent and barriers of the walk shed to and from the Vine. The results of the analysis highlight the reach of the network for each user type.
Short-Term Truck Travel Time Prediction Using a Robust Hybrid Model
Abolfazl Karimpour, Graduate Research Assistant, University of Arizona
Reliable and accurate travel time information benefits not only road users but also transportation engineers and planners for decision making. Moreover, truck travel time is especially useful for truck companies to understand truck-related economic activities and growth. However, truck travel time is usually not widely available.
Exploring Multi-source Traffic Sensor Data for Multi-Modal Arterial Performance Measurement
Yao-Jan Wu, Assistant Professor, University of Arizona
With the emerging development of Intelligent Transportation System (ITS) technologies, surface-transportation data can now be collected by a wide variety of ITS traffic detectors, including Bluetooth detectors, automatic vehicle location (AVL) devices, inductive loop detectors, and radar-based detectors.
Project Fast Track
Stephen Fickas, Professor, University of Oregon
Smart-transportation systems are ignoring non-motorized (active) transportation modes such as biking and walking. Instead, the nationwide focus is on linking cars and trucks into new vehicle-to-vehicle and vehicle-to-infrastructure networks. Project Fast Track brings active transportation modes into the mix, integrating bicyclists and pedestrians into a smart transportation system. 
Operation Design and Demand Estimation  of a Public Transit System for City of Arlington
Sirwan Shahooei, Graduate Student, University of Texas at Arlington
The city of Arlington is known as the largest city in the nation that does not have a local transit system. Voters in City of Arlington have rejected transit proposals three times. Opponents of bus transit system argue that Arlington is a low-density city and a public transit system is not economically feasible. The purpose of this paper is to provide a design for a bus transit system in Central area of the Arlington city. 
When You Can't Get Out – Losing Opportunities Due to Transportation Disadvantage Among Environmental Justice Populations 
Courtney Cronley, Assistant Professor, University of Texas at Arlington
We will report the results of an innovative, interdisciplinary study to measure the impact (e.g. health, access to opportunities, and social in/exclusion) that transportation gaps have on human well being for lower-income older adults (n = 20), who are under-represented in transportation planning and policy decisions.
Public Health Performance Measures and Their Role in the Regional Metropolitan Transportation Planning Process
Sheida Khademi, Graduate Student, University of Texas at Arlington
As Metropolitan Planning Organizations (MPOs) include public health goals and objectives into the long-range transportation planning process, the need for developing public health performance measures increases. This poster investigates the current state-of-the practice in public health performance measures and indicators used by MPOs and other agencies at both the project-level and system-level. 
Developing Public Health Performance Measures to Capture the Effects of Transportation Facilities on Multiple Public Health Outcomes
Saeed Reza, Graduate Student, University of Texas at Arlington
By creating safe, livable, pedestrian and cyclist friendly communities, cities and other agencies may significantly impact public health by increasing physical activity and improving safety and air quality. This poster presents easy to apply public health performance measures for transportation infrastructure at the level of road segments and intersections. 
Working on an Interdisciplinary Team to Address Transportation Disadvantage among Older Adults 
Vivian Miller, Graduate Student, University of Texas at Arlington
This poster reports on student experiences working as part of an interdisciplinary team to design a mobile-device app which qualitatively and quantitatively captures data reporting the impact of transportation disadvantage on the lived experiences of older adults. 
Using innovative data collection methods to document transportation disadvantage in environmental-justice populations: An interdisciplinary case study
Noelle Fields, Assistant Professor, University of Texas at Arlington
Traditional diary data-collection methods may not fully capture the lived experiences of individuals who are transportation disadvantaged. This research utilizes an intensive ecological, longitudinal design to understand the actual and desired travel experiences of two environmental-justice (EJ) populations: older adults and women with dependent children experiencing homelessness. 
Does Compact Development Increase or Reduce Traffic Congestion?
Guang Tian, Postdoctoral Research Associate, University of Utah
From years of research, we know that compact development that is dense, diverse, well-designed, etc. produces fewer VMT than sprawling development. But compact development also concentrates origins and destinations. No one has yet determined, using credible urban form metrics and credible congestion data, the net effect of these countervailing forces on area-wide congestion. This study seeks to determine which opposing point of view of sprawl and congestion is correct.