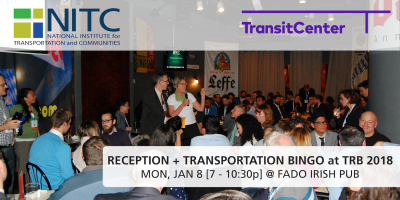 DATE:
Monday, January 8, 2018,

7:00pm

to

10:30pm

PST
LOCATION:
Fado Irish Pub, 808 7th Street Northwest, Washington, DC 20001
7:00 PM – 10:30 PM EST
The National Institute for Transportation and Communities (NITC) and TransitCenter invites you to join us for our annual reception at the 97th Annual TRB Meeting for a night of networking, fun, and bingo made especially for you transportation wonks.
And this time, we've bought out the whole bar (Fado Irish Pub)!
We'll be running networking bingo (transportation style*), and handing out big and small prizes - provided by our research consortium of six universities (Portland State University, University of Oregon, Oregon Institute of Technology, University of Utah and new partners University of Arizona and University of Texas at Arlington), TransitCenter, and PeopleForBikes.
Please RSVP so that we can plan for your attendance and email you a reminder. Complimentary appetizers (at limited capacity) will be provided.
---
*You might be wondering, "What does 'transportation style' mean?"
It means you'll be charged with finding someone who:
*Has been yelled at during a public meeting
*Has volunteered for a bike/ped trail count 
*Doesn't own a car
*Has completed a traffic impact anaylsis
*Has received funding from NITC to complete a research project
*Has ridden in a funicular

The list goes on, and on. You might be called upon to share the best story you heard on stage. Feel free to send us your ideas for the bingo cards; the more, the merrier! asktrec@pdx.edu
Add this event to your calendar: