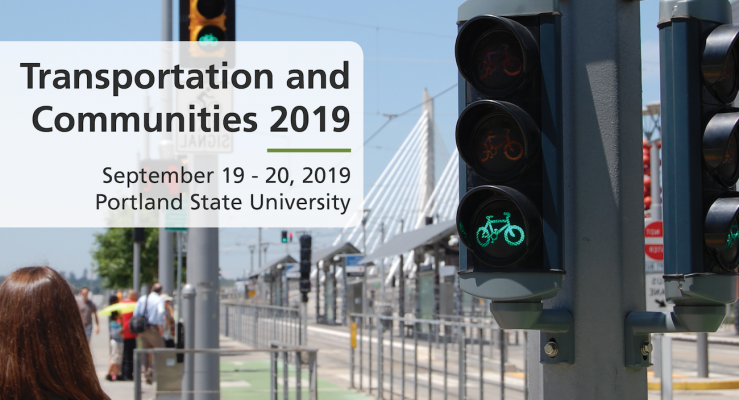 Event Date:
Thursday, September 19, 2019, 8:00am PDT

to

Friday, September 20, 2019, 5:00pm PDT
Location:
Smith Memorial Student Union, Portland State University
Cost:
Summit All-Day Pass: $195 (nonprofit / student rates available)
The eleventh annual Transportation & Communities Summit will be held at Portland State University on September 19–20, 2019.
Join us at the 11th annual Transportation and Communities Summit 2019 (see full schedule)! This annual event at Portland State University (PSU) in Portland, Oregon connects national mobility-focused research to local practice through breakout panel presentations, PechaKucha, posters, and networking between academics and practitioners.
The conference will center around three themes: Intersection of Transportation and Housing / Land Use; New Mobility in Active Transportation; and Multimodal Data: Collecting, Processing, Analyzing, and Using.
This year we're excited to welcome our keynote Ben Wellington—a data scientist and policy analyst from New York, NY. The founder of I Quant NY, his data analysis has influenced local government policy including changes in NYC street infrastructure, the way New Yorkers pay for cabs and the design of NYC subway vending machines, and his talk on urban data was featured on TEDTalks. He is a contributor to The New Yorker, and a Visiting Assistant Professor in the City & Regional Planning program at The Pratt Institute in Brooklyn.
We'll also be hosting a second day of half and full-day workshops (limited, additional cost), for those wanting a deeper dive into skill building in human-centered design, qualitative pedestrian data, using open-source strategic planning models, and more.
CALL FOR PROPOSALS
The call for proposals is now closed. Presenters accepted for 90-minute panels will be able to register for the Summit Day at no cost. Presenters accepted for Pecha Kuchas and Posters will be able to register for the Summit Day at discounted rate of $50 (at cost). Presenters accepted for delivering a half-day workshop will be compensated $500 in total per workshop (to be distributed amongst workshop presenters at their discretion). All submitters will be notified of the status of their proposal no later than Tuesday, April 30. 
REGISTRATION
See the full schedule and register here. Early Bird rate closes on July 15, 2019.
--Summit Day Pass (Sept 19): $195 (increases to $250 on July 16th)
--Workshop Half-Day Ticket (Sept 20): $95 (not yet open)
--Workshop Full-Day Ticket (Sept 20): $190 (not yet open)
If you are a student, elected official, or nonprofit employee - please contact us at asktrec@pdx.edu to access a discounted rate. Let us know if you're a student interested in volunteering in exchange for complimentary admission, and we'll be in touch later this summer.
STUDENT POSTER COMPETITION
As part of the Summit Day, we will be hosting our annual Student Poster Competition. Submit your poster idea for a chance to win a prize (and, the glory) at TCS 2019. Winning student poster presenters will also be featured in a NITC news story and highlighted in our monthly newsletter. The first round of poster submissions has closed, but we will be re-opening the call for student posters through the summer. Stay tuned.
QUESTIONS?
Contact us at asktrec@pdx.edu.
Hosted by the Transportation Research and Education Center at Portland State University. Supported by our U.S. DOT grant-funded program: the National Institute for Transportation and Communities (NITC). NITC is a Portland State-led partnership with the University of Oregon, Oregon Institute of Technology, University of Utah, University of Arizona, and University of Texas at Arlington.
Requests for reasonable accommodations may be made to Conference & Events Office, (503) 725-CONF, email: conferences@pdx.edu or the Disability Resource Center, (503) 725-4150, e-mail: drc@pdx.edu. In order to ensure that reasonable accommodations can be provided in time for this event, please make your requests as soon as possible.