Student Spotlight: John Larson-Friend, University of Oregon
Posted on October 2, 2020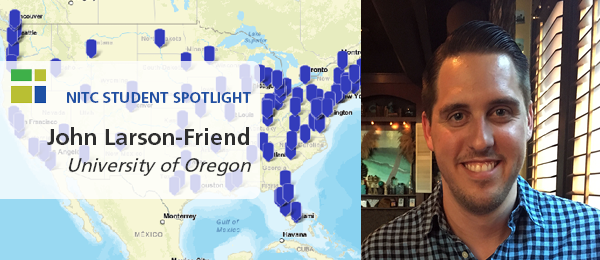 John Larson-Friend is in his second year in the Masters of Community and Regional Planning program at the University of Oregon. He discovered transportation planning during his undergraduate degree in International Studies at Portland State University, and has been hooked ever since. He is very interested in how transportation will continue to evolve over the next decades, and desires to play a role in that change. Currently, John is the Planning Intern for the City of Cottage Grove, the 2020-2021 LiveMove Speaker Series Coordinator, a student researcher working with UO faculty Marc Schlossberg and Rebecca Lewis on a new edition of the Rethinking Streets book series, and recently began a research position with Anne Brown researching Equity in Shared Mobility.
---
Tell us about yourself?
I grew up in Forest Grove, Oregon, but had the opportunity to live in the Midwest and Southern California before I ultimately returned to Oregon. Similarly, my journey to transportation planning has been long and winding. I have worked in the film industry in Hollywood, painted houses, handled client services at a major marketing company, spent two and half years as a Volunteer Coordinator at a non-profit, and even delivered recliners and couches during the year before grad school. At my core, I am a problem-solver motivated by a desire to impact communities for the better in tangible and practical ways. However, it was not until I took a community development class during my undergraduate studies that I first discovered the planning field and knew I had found my path. In particular, I am endlessly fascinated by the opportunities to explore and implement creative solutions to complex problems through transportation planning. At the University of Oregon, I enjoy participating in clubs such as LiveMove and the Transportation Research Group, collaborating with my peers, and working on in-depth community projects. Outside of school, I enjoy all things outdoors and hike, camp, or kayak as often as I can.
What has influenced your career path in transportation?
For me, there is something strangely alluring about getting people from point A to point B. When I first entered the Master of Community and Regional Planning program at the University of Oregon, I was already interested in how rapidly technology is evolving and shaping the future of transit. As I navigated through my first year of grad school, I quickly learned that everything about planning is interconnected and that one project can create a ripple effect that can have both positive and negative impacts on our communities. I believe it is that ripple that is so alluring to me, and I want to be a part of creating better cities through innovative and equitable transportation technology and design.
A project you worked on in May/June of 2020, "Transit Authority Responses to COVID-19," has been picked up by various national groups including the Community Transportation Assocation of America. Tell us about that research?
In Spring 2020, I was offered a project-based scholarship through NITC and the University of Oregon Transportation Research Group. I wanted to do a project that was practical and easy to understand, while also timely and related to the pandemic. In the end, I created an interactive Arc GIS map of 111 US transit agencies' responses to COVID-19, including at a minimum, one agency from each state. Each entry includes information about how the agency made changes and modifications to service vehicles, to fare policy, to routes and schedules, or to communications with the public.
After graduation, what future work do you envision doing in transportation?
After graduation next spring, I hope to work for a larger public or private transit entity in either the Willamette Valley or Seattle area. My goal is to continue work related to equity and innovation, and I would love to be involved in specific projects as opposed to general research. In particular, I am very interested in how new technologies will continue to revolutionize how we move around our neighborhoods, cities, and regions. From e-scooters to autonomous vehicles, I hope to participate in the upcoming opportunities to reshape our environments and how we all get from point A to point B.
 This is an installment in a series of monthly Student Spotlights we're shining on students and alumni that are involved with National Institute for Transportation & Communites (NITC) universities. NITC is a university transportation consortium funded by the U.S. DOT, and is a Portland State-led partnership with the University of Oregon, Oregon Institute of Technology, University of Utah, University of Arizona, and University of Texas at Arlington.
Share this: