Bike riding in the rain: Portland takes center stage at TRB annual meeting
Posted on January 26, 2012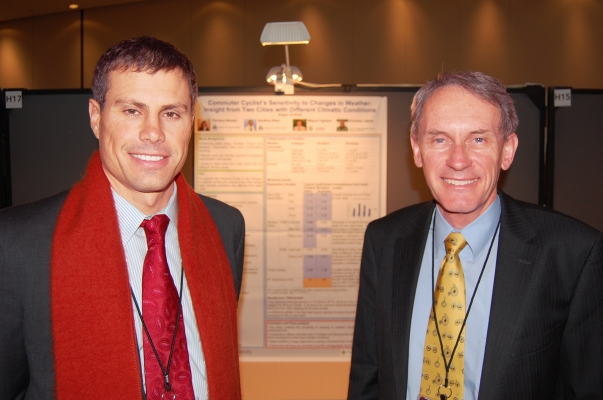 When people talk about Portland, they talk about weather and bicycling. Judging by the Transportation Research Board annual meeting in Washington, D.C., researchers are looking into the same two things.
Bikes, of course, draw more interest at a transportation conference than in other circles. Here, Portland continues to draw attention: A single day's poster session featured no less than seven papers that use Portland as a bicycle research laboratory.
The examination of bicycling and weather drew research looks from around the continent. A paper with authors from OTREC and the Institute of Transport Studies at Monash University, Australia, looked at how well different factors, including weather, affect bicycling in Portland, Ore., and Brisbane, Australia.
Light rain, for example, had little effect on bicycling in Portland, said Portland State University's Miguel Figliozzi, one of the paper's authors. The drop in ridership was four times as great in Brisbane on drizzly days.
"We're used to light rain, so the difference is very small in Portland," Figliozzi said. "In Australia, maybe they are not used to that."
Geoffrey Rose of Monash University, another author on the paper, said the paper could help transportation decision makers understand and respond to effects of weather on active transportation, particularly as they deal with climate change. "This helps to understand the effects (of weather) on cycling today and what we can do to perhaps insulate people from those effects," Rose said.
The paper is "Commuter Cyclists' Sensitivity to Changes in Weather: Insight from Two Cities with Different Climatic Conditions;" other authors are Farhana Ahmed and Christian Jakob, both of Monash University.
Heavy rain in Portland produces a 23 percent decrease in bike ridership in Portland, the paper found. That's the same decrease found in a separate paper presenting some 20 feet away at the conference.
"Cycling Activity and Weather: Multicity and Multifacility Comprehensive Study in North America" compared Portland with Canadian cities. Even Vancouver, with its similar temperate climate, showed a much greater sensitivity to rain than Portland, according to the paper, from research at McGill University.
Cycling drops 49 percent in Vancouver during heavy rains, said Thomas Nosal, one of the paper's authors.
While other researchers from Oregon and elsewhere presented bicycling research conducted in Oregon, Portland State University's Roger Chen presented a take on transportation and weather that used Sydney, Australia data.
Perhaps unsurprisingly, weather didn't have a big effect on automobile drivers. "It didn't' matter what the weather is," Chen said. "People who bike and walk are the most sensitive to weather."
People also view their own comfort differently on commute trips versus social ones. Work trips were less sensitive to weather compared to social ones. "Work trips have a more rigid time constraint," Chen said. That is, people can wait out the rain for a social trip, but typically need to arrive at work by a set time.  
The paper is "Traveling in Comfort: Investigating Weather Ranges for Travel." Kelly Clifton of Portland State University is also an author.
Share this: