Campus visits kick off new NITC program
Posted on April 23, 2012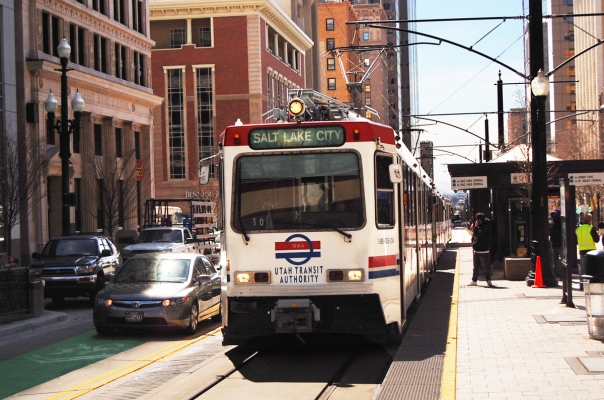 Staff from OTREC at Portland State University toured three partner campuses to prepare for the first round of projects under the National Institute for Transportation and Communities program, or NITC. Portland State, the University of Oregon, Oregon Institute of Technology and the University of Utah teamed up for the program, funded with a $3.5 million grant from the U.S. Department of Transportation.
The University of Utah was the first to receive a visit, March 19-20, in Salt Lake City. There, NITC executive committee member Keith Bartholomew hosted tours and meetings. Staff met with student representatives from various disciplines and with potential researchers from across campus before meeting potential community partners at the Utah Transit Authority offices. OTREC finance and communications staff members met with their University of Utah counterparts.
The meetings marked the first connection for much of the Utah faculty and OTREC staff. While the University of Oregon and Oregon Tech were already partners under the original OTREC grant, the NITC program marks Portland State and Utah's first formal collaboration under the federal University Transportation Centers program.
On April 9, staff met with current and potential transportation researchers at the University of Oregon along with finance officials. NITC executive committee member Marc Schlossberg hosted the meetings. Campus groups, including the university's transportation department, expressed interest in working with NITC, as did newly hired faculty members.
Oregon Tech, in Klamath Falls, was the last to receive a visit, on April 11. Roger Lindgren, NITC executive committee member, showed staff some of the education and research efforts underway at Oregon Tech. They toured the Oregon Renewable Energy Center and other laboratories and met with students, who spoke of OTREC student group support as a means to connect with professionals in their field despite Klamath Falls' distance from Oregon's biggest job centers.
They also saw work on alternative-fuel projects, including the OTREC project to produce a market-ready 100 mpg vehicle.
Each campus plans to submit proposals as part of the NITC request for proposals process.
Share this: