Looking back at OTREC by the numbers
Posted on December 13, 2013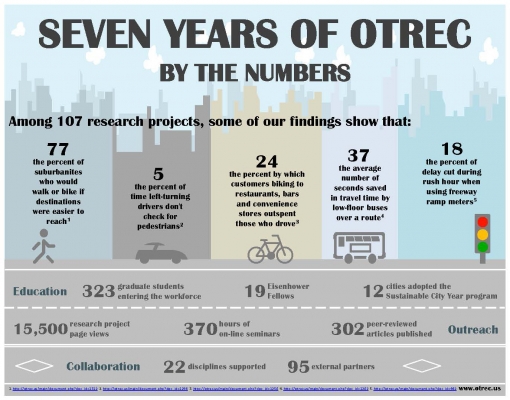 As we prepare for the next step in our development as a center, we're taking a look back at the seven years since OTREC's founding:
The Oregon Transportation Research and Education Consortium, or OTREC, was founded in 2006 with a theme that emphasized advanced technology, the integration of transportation and land use, and healthy communities. OTREC's mission is to inform transportation decision making through timely, useful primary research and to build the capacity of the transportation workforce.
Reflecting the DOT mission, OTREC promotes choices that make our transportation system safe, resilient and adaptable. Providing access to travel options that promote the health of our communities and our environment makes our country stronger.
From the research that makes our communities living laboratories to the innovative education and technology transfer efforts that wed research and practice, our programs lay the groundwork for livable communities. Our advanced technology projects have shown the effect of traffic-signal timing on pedestrians' exposure to pollution and helped a state Department of Transportation place sensors to best estimate travel times for the least cost. Our healthy communities projects have helped shape national guidelines for bike boxes and helped improve safety at intersections using the flashing-yellow-arrow traffic signal. Projects under our integration of transportation and land use theme have shown how agencies can retrofit suburban land uses for active transportation and helped adjust Institute of Transportation Engineers trip-generations rates for dense, multimodal sites.
Our educational approach stresses engaged learning and service to the community. The Sustainable City Year Program's experiential learning model—putting university-wide resources to work on a partner city's sustainability goals—has been replicated in 12 states. The annual Oregon Transportation Summit, now in its fifth year, has become the region's premier transportation conference, linking transportation professionals with the top researchers in their fields. Our weekly transportation seminars bring professional knowledge into the classroom and streaming over the Internet, further bridging the gap between academia and practice.
Click on the image above left for an infographic snapshot showing highlights of OTREC's first seven years.
Share this: