Oregon Tech students attend asphalt sustainability conference
Posted on November 19, 2015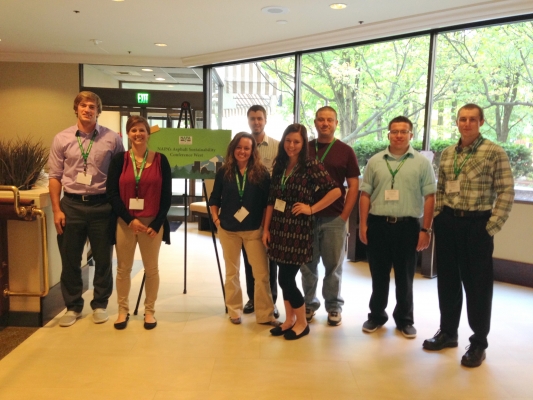 Seven Oregon Tech students attended a sustainable pavement conference in Portland thanks to NITC program funding. The 2015 Asphalt Sustainability Conference West highlighted innovations in technologies and practices.

Danit Hubbell, Oregon Tech's ITE student chapter president, said she and the other students who made the trip last month are all transportation focused, though they have varying degrees of interest in asphalt. The conference featured a good mix of topics, she said.

The term "sustainability" can vary based on context, and that was reflected in the conference sessions, Hubbell said. "One presenter talked about it as the asphalt itself and the materials it's made out of. For others, it was the transportation and the longevity.

"I think it encompasses both of those," she said.

Asphalt paving has come a long way in the last few years, Hubbell said, with sustainability driving much of the changes. Oregon Tech has stayed on top of those innovations, she said, as all civil engineering students must complete a infrastructure sustainability course.

The conference seemed to draw more transportation practitioners than students, Hubbell said, which was part of its appeal. The Oregon Tech students relished the opportunity to browse the exhibitors' tables and talk with professionals from various organizations.

Hubbell, who graduates next March, already has a job lined up. She'll join Kiewit Infrastructure Engineers in their Denver-area office.

The NITC program supports student groups at its member campuses: Portland State University, University of Oregon, Oregon Tech, University of Utah and University of South Florida. These groups support student development by hosting guest speakers, taking field trips, attending conferences and participating in social and professional events.


Share this: