Oregon Tech students go big on California bridge tour
Posted on October 19, 2012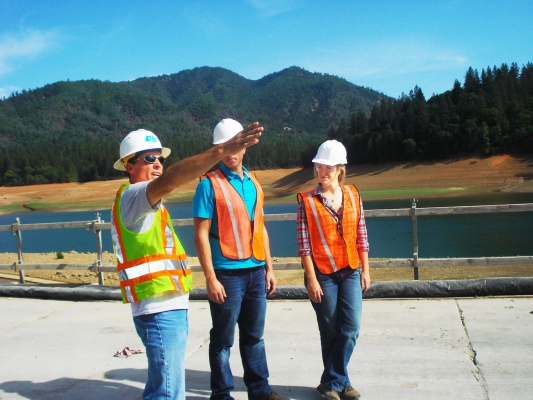 Oregon Institute of Technology students got an up-close look at bridge engineering on a large scale during a trip to the Mount Shasta area Sept. 28. A group of 16 students and faculty members Roger Lindgren and Matthew Sleep from the civil engineering department visited the Antlers Bridge Replacement construction site. The trip was organized by Oregon Tech's Institute of Transportation Engineers student chapter with funding provided by OTREC.
Eric Akana, P.E., of the California Department of Transportation hosted the tour with CalTrans engineers Shari Re, Bill Barnes, and Mark Darnall.

The new Antlers Bridge, which spans the Sacramento River arm of Lake Shasta near the town of Lakehead, California, will be a balanced cantilever cast-in-place concrete bridge. The new bridge will consist of five spans coming together to make a 1,942-foot structure, approximately 600 feet longer than the original Antlers Bridge. The new bridge will replace an aging steel structure that is reaching the end of its service life. In addition, a section of highway south of the bridge will be realigned because of a high accident rate.
The Oregon Tech group met with CalTrans engineers for an extensive project review presentation at the field office and then proceeded to the construction site where they spent over two hours viewing foundation preparation, pier construction, pier-table form travelers, and abutment work.
In addition to viewing construction details and discussing bridge design with the project engineers, the students were also shown the extensive environmental protection measures taken during large-scale transportation construction projects including site runoff control and wildlife habitat protection. The group stopped at the headwaters of the Sacramento River in Mount Shasta City before returning to the Oregon Tech campus in Klamath Falls.
A photo set from the trip is at: http://www.flickr.com/photos/otrec/sets/72157631675485390/
Share this: