Preservation planner discusses legacy of historic roads in Oregon, nation
Posted on December 2, 2011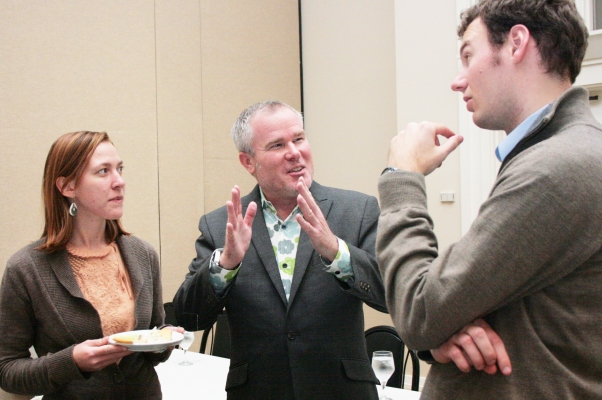 Dan Marriott, a historic road preservation planner, believes that Oregon should be proud of its heritage of excellent historic and scenic routes crisscrossing the state.

Marriott presented this message, plus a broad overview of historic road preservation, during his lecture "Historic Roads: Inspiration and Conservation in the 21st Century" at the Downtown Athletic Club in Eugene on November 10th. His lecture highlighted his years of expertise as a planner and preservationist. Marriott is the founder of Paul Daniel Marriott + Associates, a planning office that specializes in analysis and preservation strategies for historic and scenic roads.
Marriott pointed specifically to the beauty of the Columbia River Highway, built from 1913 to 1922. The highway was called "America's greatest scenic road" when it was built and attracted pleasure drivers from far away as New York. He praised the State of Oregon's commitment to preserve the roadway and facilities along the route, acknowledging its past while understanding its present value.
 
Marriott also presented examples of other historic roads from around the United States. The lecture audience was led down such famous roads as Route 66, stretching from Chicago to Los Angeles, and the Colonial Parkway, connecting the colonial-era communities of Jamestown, Williamsburg, and Yorktown, Va. In each of these roads, as well as the others he presented, Marriott showed that preservation does not have to come at the expense of functionality, sustainability or safety. He is the author of Saving Historic Roads, Design and Policy Guidelines (John Wiley and Sons, 1998) and From Milestones to Mile-Markers: Understanding Historic Roads (America's Byways Resource Center/Federal Highway Administration, 2004).

This lecture is the second in the 2011-2012 LiveMove Speaker Series, following the Oct. 20 visit of Ronald Tamse, with the Utrecht, Netherlands traffic department. LiveMove is the OTREC-funded transportation and livability student group at the University of Oregon. LiveMove brings together undergraduate and graduate students from a variety of backgrounds and disciplines to focus on the planning and design of transportation systems as they relate to community quality of life and livability.
Share this: