Roger Lindgren recognized as outstanding transportation educator
Posted on August 28, 2015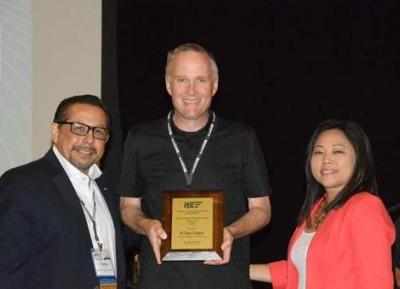 Roger Lindgren, a professor of civil engineering at the Oregon Institute of Technology and a member of NITC's executive committee, was recently awarded the Institute of Transportation Engineers (ITE) Western District Outstanding Transportation Educator Award.
He was presented with the award at the ITE Western District's annual meeting, held this year in Las Vegas.
The group of Oregon Tech students who traveled to the meeting with Dr. Lindgren also competed in the student traffic bowl, where they made it to the final round and took third place out of 12 schools.
The success of the traffic bowl team is another indicator of the strength of Oregon Tech's transportation program.
The outstanding educator award is not an annual award. It is only provided in years when there is an outstanding recipient, someone who demonstrates extraordinary creativity in teaching and takes exceptional measures to spark student interest in the transportation profession.
Lindgren, known at Oregon Tech for his emphasis on learning through practice, creating tailor-made community projects and supporting students' work, is the faculty advisor for Oregon Tech's student chapter of the ITE. He was nominated for the award last April by Oregon Tech students Miranda Barrus and Danit Hubbell.
"We strongly believed he exceeded the criteria," Barrus said. The award recognizes Lindgren's dedication to his students and his commitment to providing practical educational opportunities.
Share this: