Sen. Jeff Merkley takes "oil-free" tour in electric vehicle
Posted on July 3, 2012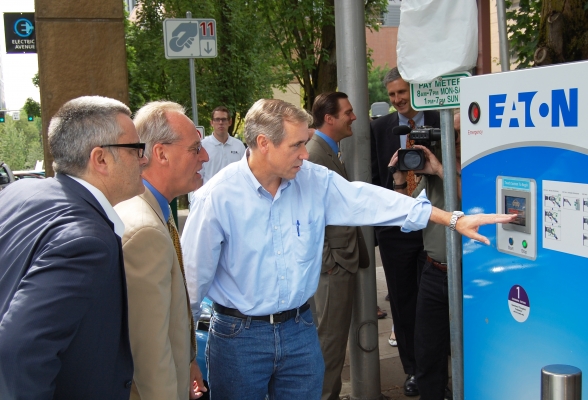 When U.S. Sen. Jeff Merkley of Oregon set off on his all-electric drive across the state July 2, his first stop was Electric Avenue, the block-long charging station at Portland State University. Merkley plugged in his car to one of the Electric Avenue charging stations and addressed the crowd gathered on the plaza nearby.
Merkley's Oil-Free Across Oregon trip is taking him from the Washington border to the California border, "the Columbia to the Redwoods," he said. Without the recent investments in charging stations along the Interstate 5 corridor, the gaps between chargers would have made an all-electric journey difficult.
"I couldn't have taken this trip a year ago," Merkley said. Portland Mayor Sam Adams and Portland State President Wim Wiewel joined Merkley for remarks.
The trip follows the West Coast Electric Highway, a network of DC fast charging stations along I-5. The public charging stations, spaced 25 to 60 miles apart, allow a driver to charge up in 30 minutes or less. OTREC's Transportation Electrification Initiative is guiding the state of Oregon's electric vehicle plan and evaluating the DC fast-charge stations and user behavior to shape future investments.
Merkley is stopping in Salem, Halsey and Springfield on Monday and Roseburg, Canyonville and Grants Pass on Tuesday. He will hold a tour-ending celebration in Ashland at the headquarters of electric motorcycle manufacturer Brammo.
Follow Merkley's tour on Twitter using the #EVBorder2Border hashtag. Watch his remarks at Electric Avenue here:
Share this: