Third Sustainable City Year program starts in Springfield
Posted on November 2, 2011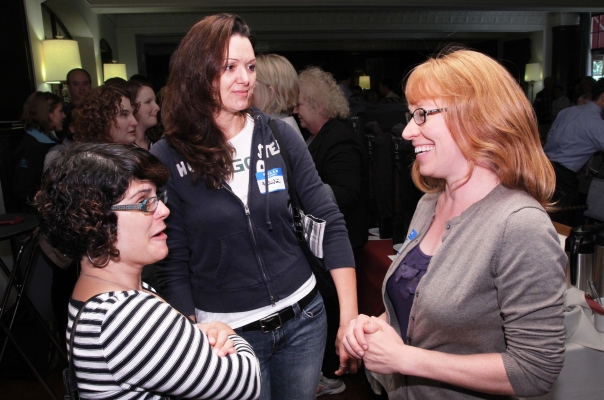 The third Sustainable City Year partnership, this year with Springfield, Ore., is officially underway after a kickoff ceremony Sept. 28 at the University of Oregon. The experiential learning program, part of the OTREC-supported Sustainable Cities Initiative, focused on the cities of Gresham and Salem, respectively, in its first two years.
Each year, Sustainable City Year channels the resources of courses across disciplines to serve a single city for an entire academic year. Students gain invaluable experience working directly with city staffs on real-world projects. The cities gain the resources to take on needed projects that would never see the light of day without the program.
In Salem, the program encompassed 28 courses, 25 faculty members on two campuses, 10 disciplines and more than 500 students and 80,000 hours. The Springfield partnership is expected to involve more than 400 students and 20 faculty members. Projects will involve Springfield city staff from several departments and participation from the Springfield Utility Board, Willamalane Park and Recreation District, Metro Wastewater Management Commission, United Way, the Springfield school district and other community organizations. Projects include:
Addressing the needs of the Laura Street neighborhood, pinned between a busy transportation corridor, commercial center and warehouse district.
Updating Springfield's Bike-Pedestrian Plan and creating a bike-path connectivity plan for incorporation into future citywide plans.
Updating the Glenwood Refinement Plan with design standards, historic preservation recommendations and city code revisions.
Redevelopment concepts for the Mohawk-area Waremart property.
Helping achieve a National Landmark designation for the Dorris Ranch Living History Farm.
Concepts to redevelop the Booth Kelly Center, which includes 17 acres and more than 200,000 square feet of industrial business space.
Nearly 200 people attended the kickoff, including U.S. Rep. Peter DeFazio, state and local leaders, and University of Oregon faculty and students.
More information on Sustainable City Year is available at http://sci.uoregon.edu/content/scy. Program Manager Chris Jones is at 541-346-6395 or jonesey@uoregon.edu.
Share this: