Today at TRB: Tuesday
Posted on January 9, 2015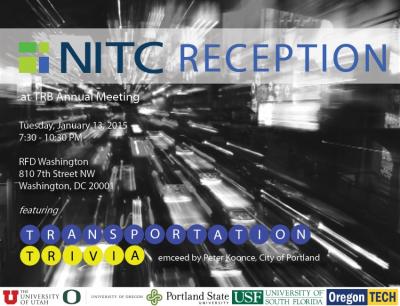 Tuesday marks another busy day of lectern and poster presentations at the annual meeting of the Transportation Research Board in Washington, D.C., with presentations from core TREC faculty along with current and former NITC student of the year recipients. The day concludes with the annual NITC reception, which all are welcome to attend. More information on the reception is at bit.ly/nitc-trb2015.
TRB helps mark the 10th anniversary of Portal, TREC's multimodal transportation data archive, with a presentation at 10:15 a.m. in room 151A. Kristin Tufte of Portland State, who manages Portal, presents her paper on the history of the program and some of the ambitious changes it's undergoing. Portal was founded in 2004 by Robert Bertini, who also co-authored the paper with Morgan Harvey. Portal started with a single data source, freeway loop detector, and has grown in ten years to contain freeway data, arterial signal data, travel times from Bluetooth detection systems, transit data and bicycle count data. Portal has also grown geographically, and Tufte will offer examples of how Portal data has been used by regional partners – with a focus on measuring the performance of the multimodal transportation system, but also including educational elements and research.
Sirisha Kothuri recently earned a doctoral degree from Portland State and, on Saturday, was awarded the NITC university transportation center student of the year award. She'll present a poster titled "Exploring Thresholds for Timing Strategies on a Pedestrian Active Corridor" at 8:30 a.m. in Hall E. Kothuri presents a much more detailed take on her pedestrian research in a NITC Webinar Jan. 29. Details are at the Webinar event page.
Steven Gehrke and Kelly Clifton of Portland State start the day with an 8 a.m. lectern presentation, "Toward a Spatial-Temporal Measure of Land Use Mix." While planners and public health researchers agree that an increased land-use mix benefits transportation efficiency and promotes physical activity, there is no consensus on exactly what "land use mix" actually means. Lacking that, there's no agreement on what makes an optimal mix or how to quantify how much of a benefit it has on transportation or health. This presentation identifies steps to fill that need, laying the groundwork for what will become Gehrke's doctoral dissertation.
Former university transportation center student of the year Alex Bigazzi, a recent Portland State doctoral recipient, presents the poster "Roadway Determinants of Bicyclist Multi-Pollutant Exposure Concentrations" at 8:30 a.m. in Hall E. The research presented is the first study to quantify volatile organic compound exposure differences by facility.
TREC director Jennifer Dill leads two presentations, with a poster detailing research on car sharing and a lectern presentation on protected bike lanes. The poster, at 2 p.m. in Hall E, is titled "Who Uses Peer-to-Peer Carsharing? Early Exploration." The lectern session, "Can Protected Bike Lanes Help Close the Gender Gap in Cycling? Lessons from Five Cities," presents research stemming from NITC's "Lessons from the Green Lane" project.
For a full list of our presentations, download the TREC/NITC guide to TRB.
Read features and more about NITC program researchers at our TRB home page.
Share this: