Transportation and Communities Summit sets new standard
Posted on October 9, 2015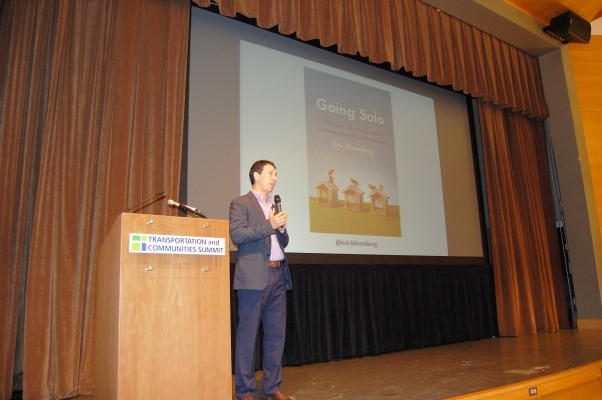 The first Transportation and Communities Summit picked up where its predecessor summit left off, offering a day of professional development opportunities and a few new touches. Around 275 people attended this year's summit, held Sept. 15 at Portland State University.

The highlight for many, according to post-event surveys, was the keynote address by author and sociology professor Eric Klinenberg. Keeping alive a tradition from earlier Oregon Transportation Summits, Klinenberg's address gave insight into an issue that intersects with transportation—in this case, the rise of single-occupant households—without directly detailing the transportation implications.

The breakout sessions allowed attendees to delve deeper into topics directly related to their professions. A full 54 percent of survey respondents called the breakout sessions the most valuable piece of the summit program. The most highly rated sessions were "Waiting to Connect," on connected vehicles; "Something from Nothing," on funding; "Zeroing in on Safety," on Vision Zero; and "Baby, You can Drive my Car;" on the sharing economy. 

Slides from all these presentations are available at the summit page.

For the first time, summit sessions were Webcast for those who couldn't attend in person. The streaming sessions got 131 views over the course of the day. Those sessions were the morning plenary, on transportation equity; Klinenberg's keynote; and breakout sessions "Baby You can Drive my Car" and "States on the Hot Seat: Climate Change Laws in Oregon and California."

Video of all streaming presentations is linked on the summit page.

Other summit highlights included rousing opening remarks from U.S. Rep. Earl Blumenauer, who stressed the importance of having a long-term vision in both planning and funding the nation's transportation system. 


Large majorities agreed or strongly agreed that the summit was a great value and that it met their expectations for professional development.
This year's summit added an on-site reception at the Smith Memorial Student Union, allowing attendees to eat, drink and mingle. The reception opened with a transportation student three-minute thesis competition, where students competed to win money in a fun, high-paced contest.
Attendees praised aspects of the summit and gave tips for making future summits successful. Comments included:
"Great event: Well organized and a good mix of activities. Lunch speaker was particularly good."
"The topics are so good, it is hard to choose which to attend."
"The lunch program was awesome! It was a refreshing break from the (usually boring) typical lunch speakers. I also really enjoyed the length of the two breakout sessions. Having that longer time frame allowed for more in-depth presentations and Q and A."
These comments, along with some constructive criticism, will go toward tailoring next year's summit even better to the needs of attendees and helping ensure successful summits for years to come.

View our Flickr page of photos from the summit.
See videos and slides of summit sessions.
Share this: