UO student group meets with Shelley Poticha of Natural Resources Defense Council
Posted on March 9, 2015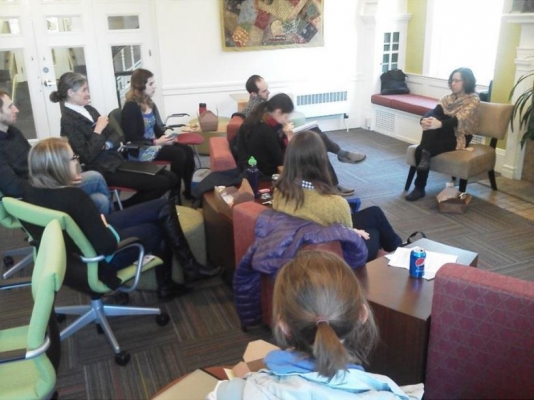 The University of Oregon student group, LiveMove, shared lunch and an afternoon conversation on Monday, February 23rd, with Shelley Poticha, Director of the Urban Solutions program at the Natural Resources Defense Council (NRDC).
The lunch was held on OU's Eugene campus in Susan Campbell Hall, where Poticha engaged in an afternoon Q&A session with students from LiveMove.
The topic was transportation and livability related issues, with 13 participants in attendance.
In the evening following the Q&A, Poticha gave a presentation in Lawrence Hall. Her focus was on addressing best practices for implementing key concepts of new urbanism, as well as detailing dynamic approaches for achieving these goals.
Through aiding in the development of greener neighborhoods and implementation of better regional planning, Poticha is a national leader in assisting cities with creating sustainable communities. Prior to joining NRDC she was a senior advisor and director of the Office of Sustainable Housing and Communities at the Department of Housing and Urban Development. Before joining HUD, she served as President and CEO of Reconnecting America, as well as the Executive Director of the Congress for New Urbanism.
LiveMove partnered with the Sustainable Cities Initiative (SCI) to contribute funds for the event.
Share this: