USDOT official visits Portland to launch transportation modeling initiative
Posted on November 10, 2010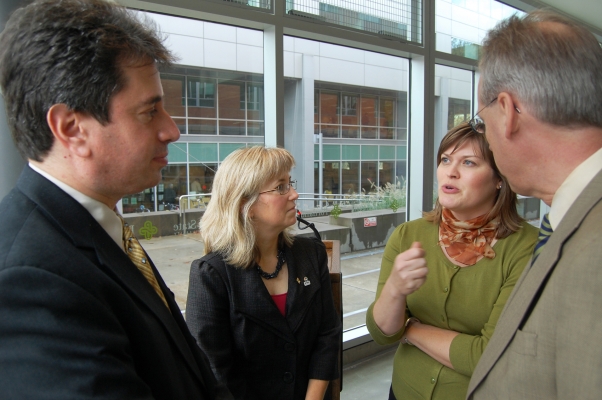 Good transportation decisions rely on good models. Yet, despite advances in transportation modeling, there had been no dedicated training ground for the next generation of modelers. That all changed with the launch of the Oregon Modeling Collaborative Nov. 12. The collaborative will serve as a living laboratory to put the research from some of America's top modelers into practice across Oregon.
On Nov. 12, we welcomed Peter Appel, administrator of the federal Research and Innovative Technology Administration, to Portland to kick off the collaborative with researchers, practitioners and policymakers from across the Northwest. Appel, confirmed by the U.S. Senate as administrator in 2009, has worked on U.S. Department of Transportation initiatives aimed at getting researchers and professionals to address safety, efficiency and environmental sustainability across all forms of transportation.
Groundbreaking research at the Oregon Transportation Research and Education Consortium has already produced models to account for bicycle trips and greenhouse gas emissions and to predict earthquake risk to highway bridges. However, models don't do any good if agencies can't afford the staff time and resources to use them. The Oregon Modeling Collaborative helps fill this gap by educating the next generation of transportation workers and providing training and support for planning organizations across Oregon.
In his keynote speech, Appel drew on his experience both as a modeler and as RITA administrator to stress the importance of data-driven decision-making. "It's about making sure that all that great academic research you did gets used correctly by the actual decision makers," Appel said.
Oregon Modeling Collaborative Director Kelly Clifton, a Portland State University associate professor, provided an overview of the collaborative. She was joined by Jerri Bohard, the interim deputy director of operations for the Oregon Department of Transportation, and Wim Wiewel, president of Portland State University.
Appel's visit started with a breakfast with the OTREC Board of Advisors that featured presentations on all three OTREC initiatives: the Sustainable Cities Initiative, the Transportation Electrification Initiative and the Oregon Modeling Collaborative. Other presentations showcased OTREC research being put into practice on topics such as bicycle modeling, safety and emissions. Student presentations showcased the ways in which the University Transportation Center program has enhanced students' education.
The entire photo set from the day's events is on flickr: http://www.flickr.com/photos/otrec/sets/72157625446304190/
Video of speeches from Clifton, Wiewel and Bohard are here. Video of Appel's keynote is here.
Share this: