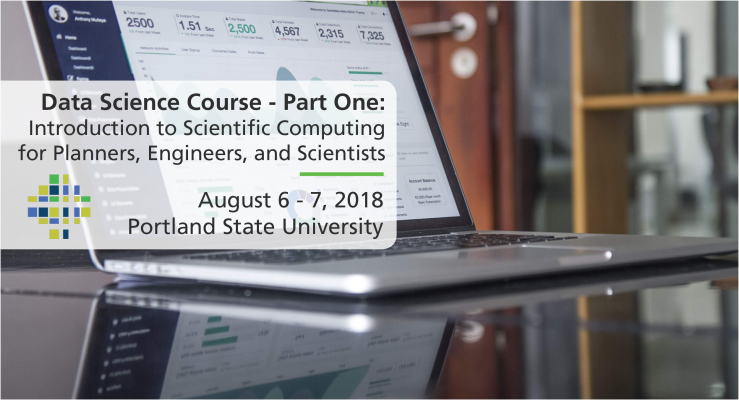 DATE:
Monday, August 6, 2018, 9:00am PDT

to

Tuesday, August 7, 2018, 5:00pm PDT
SPEAKERS:
Liming Wang, Ph.D., Portland State University
COST:
$350 (Discount applies if you attend Part 1 and 2)
LOCATION:
Portland State University, Engineering Building
This summer we're hosting a two-part data science course. You can register for one or the other– or attend both parts at a discount: Data Science Course 2018, Part 2: Intermediate/Advanced Scientific Computing for Planners, Engineers, and Scientists.
----
Did you ever feel you are "drinking from a hose" with the amount of data you are attempting to analyze? Have you been frustrated with the tedious steps in your data processing and analysis process and thinking, "There's gotta be a better way to do things"? Are you curious what the buzz of data science is about? If any of your answers are yes, then this course is for you.
Classes will all be hands-on sessions with lecture, discussions and labs. Participants can choose to sign up for one or both courses. For more information, download the syllabus (PDF). 
Agenda: Part One - Introductory Course
Coding and scripting basics
Best practices in data science
Version control using Git
Workflow and RStudio, and
How to troubleshoot
Cost
August 6-7 Intro / Level 1 to R - $350
August 8-10 Advanced R course - $500
DISCOUNT: If you attend both Part One and Part Two - $750
Prerequisites for Introductory Course
Basic knowledge and experience of working with quantitative data; experiences and skills in (or keenness to learn) a programming language (e.g. Python) and/or data processing and statistical software (e.g. R, Matlab, Stata). We encourage non-R users to take both parts together. 
Instructor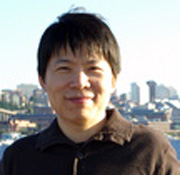 Liming Wang, Ph.D., Portland State University
Liming Wang is an assistant professor in PSU's Toulan School of Urban Studies & Planning. He teaches courses in Travel Demand Modeling, Transportation and Land Use, and Data Analysis Methods. His research takes a data-driven approach to address challenging issues in planning, in particular those intersecting land use and transportation. His recent research projects include data integration techniques for transportation and land use modeling, development and evaluation of comprehensive performance measures for transportation and land use systems, and regional strategic planning tools.
Professional Development
This course is eligible for 14 hours of professional development credit for AICP (see our provider summary). We can provide an electronic attendance certificate for other types of certification maintenance.
This course was developed as part of a NITC education project: Introduction to Scientific Computing for Planners, Engineers, and Scientists
Requests for reasonable accommodations may be made to Conference & Events Office, (503) 725-CONF, email: conferences@pdx.edu or the Disability Resource Center, (503) 725-4150, e-mail: drc@pdx.edu. In order to ensure that reasonable accommodations can be provided in time for this event, please make your requests as soon as possible.