Wednesday, September 15, 2021,

10:00am

to

11:00am

PDT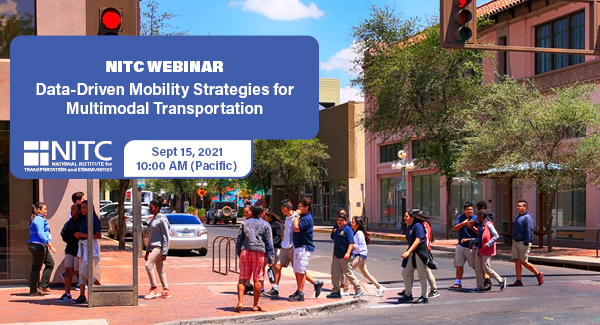 OVERVIEW
Multimodal transportation systems (e.g., walking, cycling, automobile, public transit, etc.) are effective in increasing people's travel flexibility, reducing congestion, and improving safety.  Therefore, it is critical to understand what factors would affect people's mode choices. With advanced technology, such as connected and automated vehicles, cities are now facing a transition from traditional urban planning to developing smart cities. To support multimodal transportation management, this study serves as a bridge to connect speed management strategies of conventional corridors to connected vehicle corridors.
The study consists of three main components. In the first component, the impact of speed management strategies along traditional corridors was evaluated. In the second component, the impacts of the specific speed management strategies, signal retiming and coordination, on transit signal priority (TSP) was studied. Finally, in the third component, the feasibility of using controller event-based traffic data for estimating multimodal signal performance measures was investigated. The research outcomes of this study will help decision-makers understand the data and infrastructure needs in supporting future multimodal planning, operation, and safety tasks.
KEY LEARNING OUTCOMES
Understand the impacts of speed feedback sign along traditional corridors
Understand the impacts of...
Read more
Tuesday, October 12, 2021,

10:00am

to

11:00am

PDT