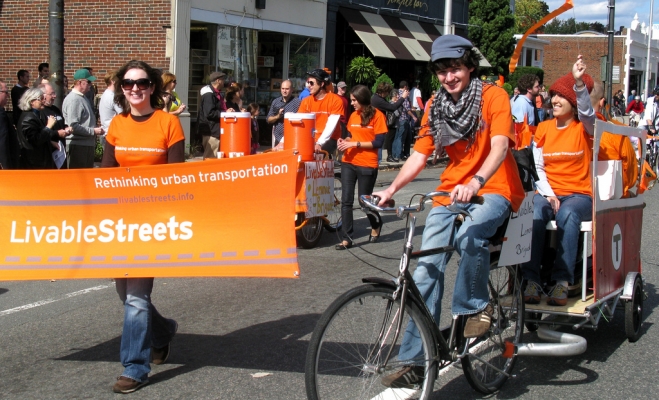 DATE:
Friday, October 16, 2015,

12:00pm

to

1:00pm

PDT
SPEAKERS:
Jeffrey Rosenblum, Adjunct Instructor, Northeastern University; Ph.D. candidate, Massachusetts Institute of Technology
Watch video
View slides
Local grassroots advocacy organizations play a critical role in shaping the future of cities but receive very little attention in research, especially insofar as understanding the most effective tactics that should be used by these organizations to achieve their objectives. When LivableStreets Alliance was founded in 2005, The City of Boston had 3/8 of one mile of bicycle lanes. Over the past decade, we have seen a sea change. Boston has published a nationally-recognized Complete Streets Guide, MassDOT has incorporated cycle-track designs into several federally-funded projects, and highway overpasses are slated for removal. What is LivableStreets' role in shifting policy, politics, design, and public opinion? What are lessons to be learned for future transportation planners and engineers? Get the inside scoop on what actually happened behind the scenes.
LivableStreets Alliance
, an urban planning transportation nonprofit advocating for better transit, walking, and biking in the greater Boston area. He served as Executive Director until 2007, when he began working as a transportation planner and street design engineer for the City of Cambridge, Massachusetts until 2014. He is currently pursuing a PhD at MIT Department of Urban Studies and Planning in the fields of Urban Information Systems and Transportation Planning. Jeff is an adjunct faculty at Northeastern University co-teaching an intensive summer course, "Sustainable Transportation Planning," held at TU-Delft in the Netherlands. Jeff is on the Board of Directors for the Alliance for Biking and Walking, participates in the Bicycle Subcommittee of the National Committee on MUTCD, and is active with NACTO. He has served on MassDOT's Transportation Advisory Board and Boston's Complete Streets Advisory Committee. Prior to founding LivableStreets, Jeff worked on sustainable development projects in Africa, Central Asia, and the Middle East, and is a former researcher for the Business & Sustainability group at Tellus Institute. Jeff holds a Masters degree in Environmental Engineering and Policy from Carnegie Mellon University and a Professional Engineering License from the State of Maine. He bicycles his two children to school on an XtraCycle.