Thursday, May 18, 2023,

11:00am

to

12:00pm

PDT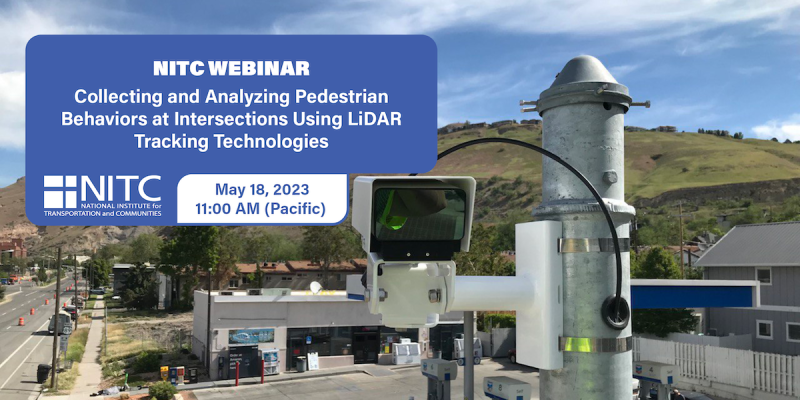 OVERVIEW
The aim of this research is to investigate pedestrian behavior at signalized intersections using state-of-the-art LIDAR sensing technologies and to use this data, along with vehicular data, to develop a more effective multimodal signal control system.
In the presentation, the presenters will describe a novel method of collecting pedestrian crossing behaviors at signalized intersection, findings and implications of data analytics and to introduce a novel approach to dynamic flashing yellow arrow mechanisms to reduce the conflict between left turn vehicles and crossing pedestrians
KEY LEARNING OUTCOMES
Understand the framework of LiDAR sensing solutions;
Understand how to collect pedestrian behaviors at intersections;
Understand how to provide new protection for crossing pedestrians with object-tracking technologies.
THE RESEARCH
This webinar is based on a study funded by the National Institute for Transportation and Communities (NITC) and conducted at the University of Texas at Arlington, Portland State University, and the University of Utah. Read more about the research: Pedestrian Behavior Study to Advance Pedestrian Safety in Smart Transportation Systems Using Innovative LIDAR Sensors.
SPEAKERS
Pengfei (Taylor) Li, University of Texas Arlington...
Read more
Thursday, June 8, 2023,

10:00am

to

11:00am

PDT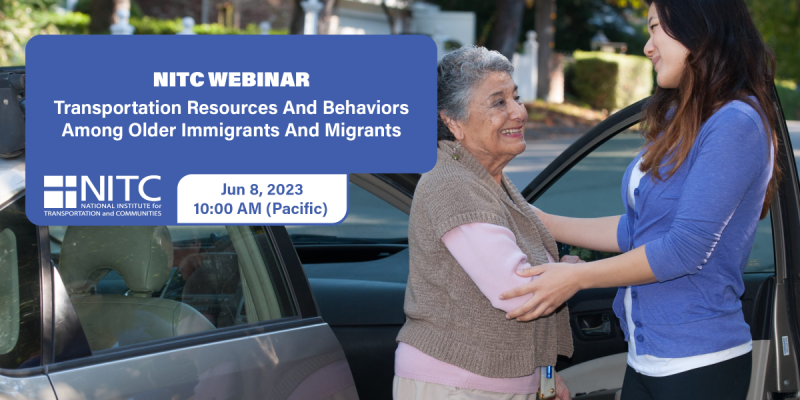 OVERVIEW
This presentation reports findings from a cross-sectional survey of older Vietnamese immigrants in the Dallas-Fort Worth, TX metroplex and members of a Hispanic senior center in Hartford, CT. In addition to providing a description of transportation resources and behavior, we present a method for assessing the geospatial "regular activity spaces" of older adults based on the frequency and locations of routine activities. We also present options for assessing the geospatial burden of providing rides to older adults using "ride-provision activity spaces," which entails the frequency and locations of activities for which rides are given. Finally, we discuss the association of transportation-related factors and companionship among members of the senior center in Hartford, CT. Implications for this research include land use policy, assessment for and allocation of public assistance for transportation for older adults, and transportation-related programs to address social isolation.
KEY LEARNING OUTCOMES
After attending this session, attendees will be able to:
Identify unique transportation-related characteristics and needs of older immigrants;
Describe transportation-related factors in a sample of older Vietnamese immigrants in Dallas-Fort Worth and older Hispanic migrants/immigrants in Hartford, CT;
Discuss options for assessing geospatial transportation burden among ride providers of older adults;
Identify ways...
Read more