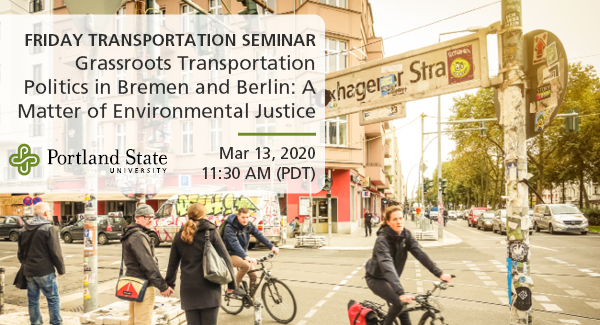 DATE:
Friday, March 13, 2020,

11:30am

to

12:30pm

PDT
SPEAKERS:
Anne Kirkham, Berlin Institute of Technology
LOCATION:
Karl Miller Center at PSU, 615 SW Harrison St., Room 465
We regret to inform you that our guest speaker will no longer be able to join us. This seminar has been cancelled. We remain committed to making decisions that promote the success and well-being of our communities, and support our community members in following taking steps to take care of themselves, minimize the spread of the COVID-19, and protect those who are the highest risk. We apologize for any inconvenience this may cause, and look forward to seeing you at future events. 
THE TOPIC
Civil society in Germany has had little influence on transportation politics and planning. Yet the urgency of the global climate crisis as well as the problems of the so-called "democratic deficit" are only increasing. These challenges indicate that a shift towards a sustainable as well as a democratic transportation politics is urgently needed.
Although the wide-ranging and interconnected nature of transportation politics makes this "Verkehrswende" both particularly urgent and particularly complicated, grassroots movements and civil society actors in Berlin and Bremen are seeking to create a truly sustainable politics of transportation in Germany.
Using qualitative analysis and expert interviews of movement actors, as well as a theoretical grounding in critical democratic theories, this project will examine how citizen movements can successfully steer public opinion and discourse about transportation and thus affect transport politics, policy, and planning in these two German city-states.
KEY LEARNING TAKEAWAYS
How can citizens influence transport politics? 
How can norms around transport and mobility be changed to be inclusive of difference? 
How can planning processes be made fair and inclusive, as well as sustainable, throughout?
SPEAKERS
Anne Kirkham, Technische Universität Berlin (Berlin Institute of Technology)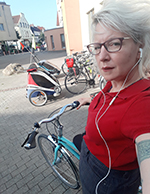 Anne Kirkham has been a passionate cyclist since 1994, participating in the early days of Critical Mass and bicycle activism in California and Washington State and working as a bike messenger, bicycle and environmental activist, as well as a brief stint as a cyclocross racer. In addition to being active in the globalisation movement, she loves cultural exchange and especially sharing music, food, and art with friends from around the world. Anne has her Master's Degree in Political Science, focusing on theories of social and environmental justice, and is currently researching the social justice aspects of transportation politics at the TU Berlin in Germany.
PROFESSIONAL DEVELOPMENT
This 60-minute seminar is eligible for 1 hour of professional development credit for AICP (see our provider summary). We provide an electronic attendance certificate for other types of certification maintenance.
LEARN MORE
Sign up for our newsletter to receive monthly updates.
Photo: iStock.com/ViewApart
ADD TO CALENDAR
The Transportation Research and Education Center (TREC) at Portland State University is home to the National Institute for Transportation and Communities (NITC), the Initiative for Bicycle and Pedestrian Innovation (IBPI), and other transportation programs. TREC produces research and tools for transportation decision makers, develops K-12 curriculum to expand the diversity and capacity of the workforce, and engages students and professionals through education.