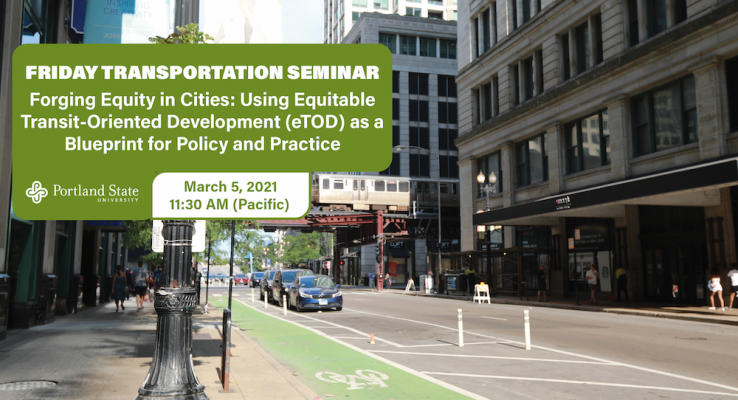 DATE:
Friday, March 5, 2021,

11:30am

to

12:30pm

PST
SPEAKERS:
Roberto Requejo, Elevated Chicago
We are committed to making decisions that promote the success and well-being of our campus community. Until further notice, all live events hosted by TREC will be online only.
Friday Transportation Seminars at Portland State University have been a tradition since 2000. You can join us online at 11:30 AM.
PRESENTATION ARCHIVE
THE TOPIC
Racial equity, wealth building, public health and climate resilience goals are only possible through cross sectional engagement that includes city, state, and regional governments, community-based organizations, and private sector partners. Please join us for this jointly sponsored seminar and workshop to learn about models of community engagement for equitable transportation and housing development.
In this seminar, Roberto Requejo, Program Director at Elevated Chicago, will discuss their community organizing and empowerment work to create equitable transit oriented development (eTOD) in Chicago. Their efforts to incorporate diversity, equity, and inclusion into planning and infrastructure investments center on community-focused benefits such as access to affordable housing and increasing public health outcomes. Mr. Requejo will discuss how this effort focuses on people, place, and process to create more vibrant, prosperous, and resilient neighborhoods and how these lessons can inform community processes in other jurisdictions that include transportation development and beyond.
KEY LEARNING OUTCOMES
Understand how a cross-sector coalition works to advance equitable development
Learn the difference between TOD and ETOD
Discover how ETOD looks like in different Chicago neighborhoods
Discuss how ETOD can solve --rather than trigger -- displacement and address post-pandemic challenges
SPEAKER
Roberto Requejo, Program Director, Elevated Chicago
PROFESSIONAL DEVELOPMENT
This 60-minute seminar is eligible for 1 hour of professional development credit for AICP (see our provider summary). We provide an electronic attendance certificate for other types of certification maintenance.
LEARN MORE
Photo by bukharova/iStock
Sign up for our newsletter to receive monthly updates.
The Transportation Research and Education Center (TREC) at Portland State University is home to the National Institute for Transportation and Communities (NITC), the Initiative for Bicycle and Pedestrian Innovation (IBPI), and other transportation programs. TREC produces research and tools for transportation decision makers, develops K-12 curriculum to expand the diversity and capacity of the workforce, and engages students and professionals through education.