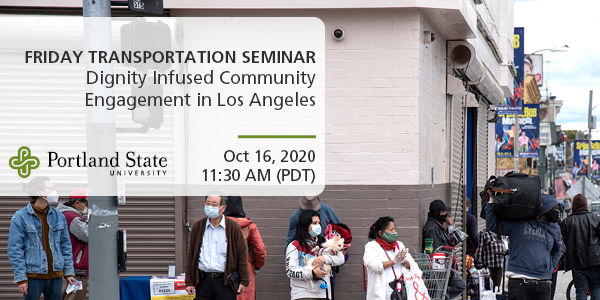 DATE:
Friday, October 16, 2020,

11:30am

to

12:30pm

PDT
SPEAKERS:
Caro Vera, Fehr & Peers; Kevin Ocubillo, LADOT
In response to the global pandemic, in person activities are restricted on the PSU campus. Until further notice, all live events hosted by TREC will be online only.
Friday Transportation Seminars at Portland State University have been a tradition since 2000. You can join us online at 11:30 AM.
PRESENTATION ARCHIVE
THE TOPIC
In 2019, the LADOT Vision Zero Division launched the Vision Zero Dignity Infused Community Engagement (VZ DICE) strategy with the intent to transform the way the City engages with local communities. This planning process intentionally and holistically incorporates the viewpoints, lived experiences, and perspectives of those most impacted by a planning project and seeks to restore and atone for historic, systemic, and institutional injustices. A team of community partners, advocates, social scientists, artists, everyday residents, and technical experts came together to reach community residents in ways that reflect the local social, cultural, and racial/ethnic identity of a neighborhood. The strategy was purposely multifaceted involving a local street team, small business partnerships, an anti-displacement resource kit, and a ground truthing process to assess how local projects can center community needs and reflect local values. Over 18,000 residents and counting have been engaged through the project so far and LADOT continues to apply this framework to other planning projects.
KEY LEARNING OUTCOMES
Community engagement should be culturally relevant and reflect the community being served.
Transportation projects can negatively impact communities if residents aren't involved in the engagement process.
Partner, build, and pay community partners as they are local experts.
Community engagement requires building trust, starting with a willingness to innovate, intervene, and invest.
SPEAKERS
Caro Vera, Senior Transportation Planner, Fehr & Peers
Kevin Ocubillo, Los Angeles Department of Transportation
PROFESSIONAL DEVELOPMENT
This 60-minute seminar is eligible for 1 hour of professional development credit for AICP (see our provider summary). We provide an electronic attendance certificate for other types of certification maintenance.
LEARN MORE
Photo by MSPhotographic/iStock
Sign up for our newsletter to receive monthly updates.
The Transportation Research and Education Center (TREC) at Portland State University is home to the National Institute for Transportation and Communities (NITC), the Initiative for Bicycle and Pedestrian Innovation (IBPI), and other transportation programs. TREC produces research and tools for transportation decision makers, develops K-12 curriculum to expand the diversity and capacity of the workforce, and engages students and professionals through education.