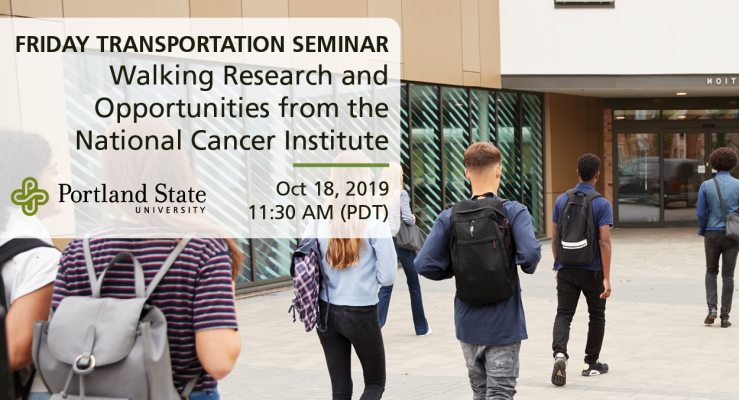 DATE:
Friday, October 18, 2019,

11:30am

to

12:30pm

PDT
SPEAKERS:
David Berrigan, National Institutes of Health
LOCATION:
Fariborz Maseeh Hall (FMH), room B128, 1855 SW Broadway
Friday Transportation Seminars at Portland State University have been a tradition since 2000. You can join us in person at 11:30 AM, or you can also watch online.
PRESENTATION ARCHIVE
Miss the seminar or want a look back?
THE TOPIC 
Lack of physical activity is well established as a modifiable risk factor for cancer at multiple sites. Because walking (and rolling) are among the most common forms of physical activity in the United States, the Division of Cancer Control and Population Sciences of the US National Cancer Institute has supported a range of data resources, methods research and development and funding opportunities related to physical activity and cancer control across the entire cancer control continuum. In this seminar, Dr. Berrigan will share about emerging results from the 2015 National Health Interview Survey Walking and Perceptions of the Walking Environment Module, resources and data related to youth physical activity including results from the FLASHE and NHTS surveys and new tools for teaching and measurement supported by NCI. Together these materials will help expand transportation researcher and practitioner knowledge of links between physical activity and cancer as well a variety of research results and resources.
KEY LEARNING TAKEAWAYS
Lack of physical activity is a risk factor for cancer at multiple sites
There is substantial spatial and demographic variability in self-reported walking prevalence and reported prevalence of barriers and facilitators to walking
Newly released tools are available for collecting data about physical activity and for teaching and learning about measurement of physical activity in children and youth
Despite strong data concerning links between physical activity and health, evidence is incomplete concerning best intervention and policy approaches to increasing PA 
SPEAKER
David Berrigan, National Institutes of Health, National Cancer Institute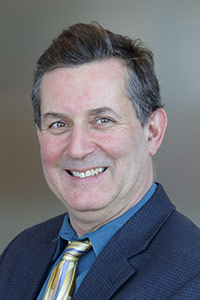 David Berrigan, Ph.D., M.P.H., has been a biologist in the Division of Cancer Control and Population Sciences since 2003. He joined the Health Behaviors Research Branch (HBRB) in 2015. Previously, he served as a Cancer Prevention Fellow with funding from the Division of Cancer Prevention from 1999-2003. Before coming to NCI, he was a postdoctoral fellow and lecturer at the University of Washington and at La Trobe University in Melbourne, Australia, with funding from the National Science Foundation and USDA.
PROFESSIONAL DEVELOPMENT
This 60-minute seminar is eligible for 1 hour of professional development credit for AICP (see our provider summary). We provide an electronic attendance certificate for other types of certification maintenance.
LEARN MORE
Sign up for our newsletter to receive monthly updates.
Photo Credit: monkeybusinessimages on istock.com
The Transportation Research and Education Center (TREC) at Portland State University is home to the National Institute for Transportation and Communities (NITC), the Initiative for Bicycle and Pedestrian Innovation (IBPI), and other transportation programs. TREC produces research and tools for transportation decision makers, develops K-12 curriculum to expand the diversity and capacity of the workforce, and engages students and professionals through education.