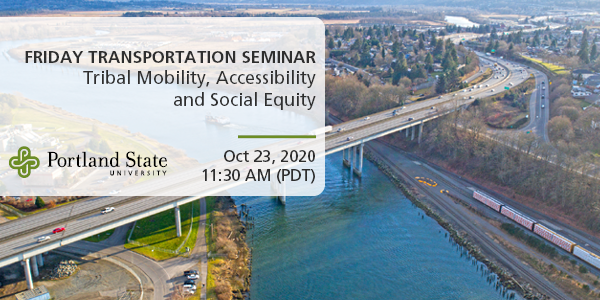 DATE:
Friday, October 23, 2020,

11:30am

to

12:30pm

PDT
SPEAKERS:
Margo Hill, Eastern Washington University
In response to the global pandemic, in person activities are restricted on the PSU campus. Until further notice, all live events hosted by TREC will be online only.
Friday Transportation Seminars at Portland State University have been a tradition since 2000. You can join us online at 11:30 AM.
PRESENTATION ARCHIVE
THE TOPIC
Eastern Washington University's Small Urban, Rural & Tribal Center on Mobility (SURTCOM) focuses on the mobility needs and challenges faced by tribal communities. In this presentation, SURTCOM Associate Director Margo Hill will examine the accessibility of tribal communities to basic necessities. These necessities include:
Interstate Onramps
Micropolitan Population Centers
Metropolitan Population Centers
Indian Health Service (IHS) Facilities
Grocery Stores
Department Stores
Fast Food Restaurants
Destinations were chosen based on observed health disparities within the American Indian population (Jones, 2006), and the importance of accessibility to healthy foods found throughout the food desert literature.
Professor Hill will also discuss Missing and Murdered Indigenous Women. There are thousands of deaths and disappearances of Native women and girls in the U.S and Canada. These native women and girls vanish from tribal lands, rural communities and cities with no official accounting. Transportation and transit intersect with human trafficking and jurisdictional problems tribal people encounter. Native Americans have unique mobility patterns as they travel from rural tribal territories to urban centers. This session will discuss issues of risk factors, human trafficking and how the complicated jurisdictional scheme of Indian Country makes it difficult to protect native women. Lastly, we will discuss Federal Indian Law and the United States Supreme Court decisions on tribal issues and mobility.
KEY LEARNING OUTCOMES
Participants will learn about:
The unique mobility patterns of tribal communities
The accessibility of tribal communities to basic necessities such as health care, grocery stores and department stores
Tribal sovereignty and how the United States Supreme Court has ruled on tribal mobility
SPEAKER
Margo Hill, Eastern Washington University
PROFESSIONAL DEVELOPMENT
This 60-minute seminar is eligible for 1 hour of professional development credit for AICP (see our provider summary). We provide an electronic attendance certificate for other types of certification maintenance.
LEARN MORE
Photo by SEASTOCK/iStock
Sign up for our newsletter to receive monthly updates.
The Transportation Research and Education Center (TREC) at Portland State University is home to the National Institute for Transportation and Communities (NITC), the Initiative for Bicycle and Pedestrian Innovation (IBPI), and other transportation programs. TREC produces research and tools for transportation decision makers, develops K-12 curriculum to expand the diversity and capacity of the workforce, and engages students and professionals through education.