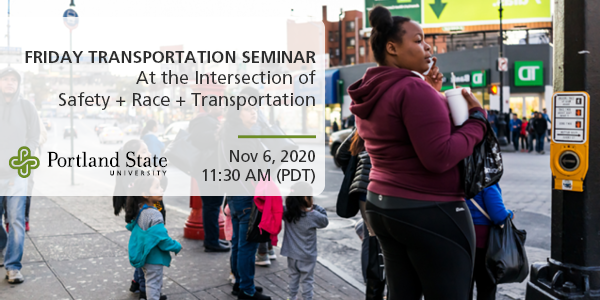 DATE:
Friday, November 6, 2020,

11:30am

to

12:30pm

PST
SPEAKERS:
Charlene McGee, Multnomah County
We are committed to making decisions that promote the success and well-being of our campus community. Like an increasing number of universities nationwide, Portland State is taking steps to respond to the global pandemic. Until further notice, all live events hosted by TREC will be online only.
Friday Transportation Seminars at Portland State University have been a tradition since 2000. You can join us online at 11:30 AM.
PRESENTATION ARCHIVE
THE TOPIC
Transportation policies at the local, regional, state and national levels have a direct impact on urban land use and development patterns. Transportation intersects with multiple areas including public health, education, climate change, physical activity, health outcomes, build environment, violence, safety, social cohesion and the wellness of communities. For the health outcomes influenced by transportation, disparities exist by race, ethnicity, and socioeconomic status in Multnomah County. Disproportionate exposure to injury, air pollution, and noise contributes to inequitable burdens of injuries and chronic disease among race and ethnic groups. This is exacerbated by lack of access to safe places for active transportation and lack of safe access to destinations that support health such as jobs, schools, and healthcare. According to an analysis conducted by the Health Department, the REACH focus population faces safety issues from both traffic crashes and concerns for personal security. These exposures result in a disproportionate burden of injury and chronic disease. Black/African Americans residents in Multnomah county die from traffic crash injuries at higher rates than white residents, about 1.8 times higher from 2013-2017. Compared to their White counterparts, more deaths are observed from chronic diseases among African Americans than expected: 24% more from heart disease, 68% more from stroke, and 32% more from cancer.
The cost of health inequalities in Multnomah County is an estimated $442 million annually, including $332 million from premature death, $92 million in direct health care costs, and $18 million in indirect costs of illness. The Oregon Health Authority estimated that implementing Metro's Climate Smart Strategy would avoid $100 million in treatment costs annually.
KEY LEARNING OUTCOMES
Help transportation professionals measure progress toward equity in transportation safety
Provide tools for public health and transportation agencies to collaborate
Enhance knowledge of transportation professions and decision makers to connect health equity during transportation process, planning and designs
Build awareness of personal and institutional action steps professionals can do to bridge racial equity, health equity and transportation equity
SPEAKER
Charlene McGee, Multnomah County REACH Program Manager
PROFESSIONAL DEVELOPMENT
This 60-minute seminar is eligible for 1 hour of professional development credit for AICP (see our provider summary). We provide an electronic attendance certificate for other types of certification maintenance.
LEARN MORE
Photo by krblokhin/istock
Sign up for our newsletter to receive monthly updates.
The Transportation Research and Education Center (TREC) at Portland State University is home to the National Institute for Transportation and Communities (NITC), the Initiative for Bicycle and Pedestrian Innovation (IBPI), and other transportation programs. TREC produces research and tools for transportation decision makers, develops K-12 curriculum to expand the diversity and capacity of the workforce, and engages students and professionals through education.