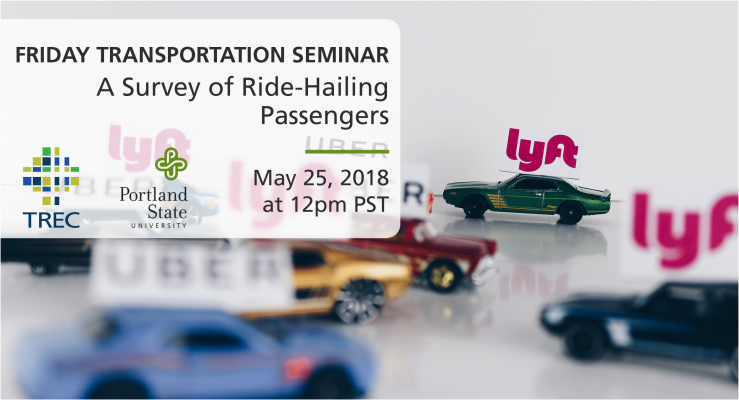 DATE:
Friday, May 25, 2018,

12:00pm

to

1:00pm

PDT
SPEAKERS:
Steven Gehrke, Boston Metropolitan Area Planning Council
LOCATION:
Karl Miller Center at PSU, 615 SW Harrison St., Room 465
PRESENTATION SLIDES
Miss the presentation or want a look back at the slides? You can view them here.
In less than a decade, the ride-hailing industry, led by Uber and Lyft, has dramatically transformed the way we travel in our metro regions. Rider adoption of these on-demand mobility services has proceeded much quicker than our understanding of their impacts to our urban transportation systems. Planning for this transformation in personal mobility, which will have unintended consequences, has been made more difficult by the scarcity in meaningful data made available by these ride-hailing companies. Public agencies responsible for managing congestion and transit services are hindered in their ability to successfully plan for the integration of this emergent travel mode without access to these valuable data.
In response, Boston's Metropolitan Area Planning Council conducted an intercept survey of nearly 1,000 passengers to understand who uses ride-hailing services, what types of trips are performed using these new mobility options, and how these services impact more established travel modes. Perhaps expectedly, most ride-hailing passengers were under the age of 35, use ride-hailing on a weekly basis, and do not own a car. Remarkably, however, 59-percent of surveyed ride-hailing trips added new vehicles to the region's already congested roadways, with 42-percent of respondents stating they would have used public transit if ride-hailing was unavailable. These and other important findings provide a window of insight into the extent of ride-hailing utilization in the Boston Region and help to foster a greater dialogue about the need for data provision mandates to guide effective policy decisions.
THE SPEAKER
Steven Gehrke, Metropolitan Area Planning Council
Steve Gehrke is a Senior Research Analyst at the Metropolitan Area Planning Council (MAPC), the regional planning agency serving the people who live and work in Metropolitan Boston. Prior to joining MAPC, Steve worked as a research analyst in the Toulan School of Urban Studies and Planning at Portland State University, as well as a graduate research assistant in the Department Civil and Environmental Engineering. In these roles, he contributed to applied research projects investigating the transportation outcomes of residential location choices, public dissemination of disaggregate travel survey data, trip generation rates at affordable multifamily housing sites, and public transit system performance. He has also served as a graduate research assistant for the National Center for Smart Growth Research and Education at the University of Maryland and as a transportation analyst for KFH Group, Inc. in Bethesda, Maryland.
PROFESSIONAL DEVELOPMENT
This 60-minute seminar is eligible for 1 hour of professional development credit for AICP (see our provider summary). We provide an electronic attendance certificate for other types of certification maintenance.
LEARN MORE
Sign up for our newsletter and check the box for "Events" to receive monthly updates.
Photo by Thought Catalog on Unsplash