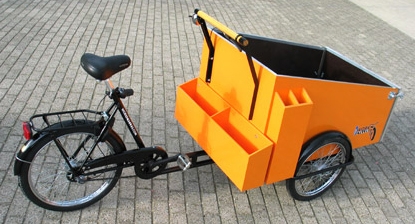 DATE:
Friday, December 4, 2015,

12:00pm

to

1:00pm

PST
SPEAKERS:
Alison Conway, Assistant Professor, City College of New York
Watch video
View slides
Cities depend on safe and efficient goods movement to support community livability and a healthy economy. However, delivery of goods in an urban environment presents a tremendous challenge. Traditional motorized vehicles used for goods movement – ranging from cargo vans to box trucks - are inherently incompatible with (1) the multimodal street environments of modern cities, with clean, quiet conditions preferred by residents, and (2) larger environmental sustainability goals. As freight flows continue to grow with the demands of global trade, new urban freight and city logistics solutions are needed.
Cargo cycles – human powered cycles equipped with freight carrying capacity – offer a potential alternative to reduce freight externalities. This presentation will discuss the results of the recently completed "Freight Tricycles in New York City (NYC)" project, which aimed to evaluate the potential for cargo cycles as a local and last-mile freight transportation mode and to understand the traffic performance and externalities of cargo cycles compared to motorized delivery modes in NYC conditions.