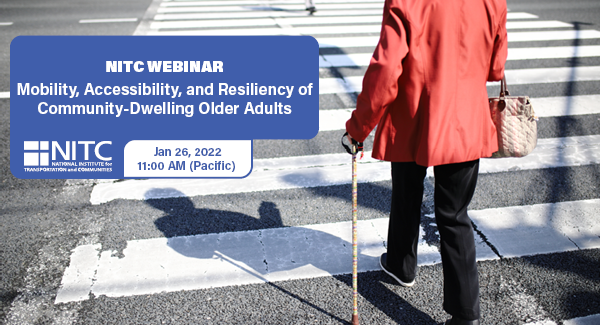 DATE:
Wednesday, January 26, 2022,

11:00am

to

12:00pm

PST
SPEAKERS:
Kate Hyun, Kathy Lee, and Caroline Krejci; University of Texas at Arlington
PRESENTATION ARCHIVE
OVERVIEW
Mobility disparities among older adults affect their ability to travel and access services. This project seeks to understand challenges, barriers, and gaps that older adults experience and to develop forms of assistance or educational strategies to fill the varying mobility gaps and meet the mobility needs. This study characterizes older adults' use of existing and potential transportation options, including conventional transit, paratransit, and ride-hailing systems, based on surveys and interviews collected from community-dwelling older adults in Dallas, Texas. Through the interview during the pandemic, the research team found that perceptual and knowledge barriers appear to be reduced among older adults to adopt new mobility options such as ride-hailing although financial and technology barriers still exist. Based on the findings, we discussed several strategies that can potentially reduce observed barriers and challenges and enhance mobility to ultimately increase social equity across transportation-disadvantaged populations, particularly among low-income older adults.
KEY LEARNING OUTCOMES
The audience will evaluate older adults' actual usages, awareness, willingness to utilize, and any associated challenges and barriers to access available transportation options.
The audience will identify factors enhancing resilience among marginalized older adults during the COVID-19 pandemic.
The talk will demonstrate how older adults' heterogenous characteristics, expectations, motivations, and goals influence their satisfaction with different transportation options.
THE RESEARCH
This webinar is based on a study funded by the National Institute for Transportation and Communities (NITC) and conducted at the University of Texas at Arlington. Read more about the research: Developing Strategies To Enhance Mobility And Accessibility For Community-Dwelling Older Adults.
SPEAKERS
Kate Hyun, University of Texas at Arlington
Caroline Krejci, University of Texas at Arlington
Kathy Lee, University of Texas at Arlington
PROFESSIONAL DEVELOPMENT
This 60-minute webinar is eligible for 1 hour of professional development credit for AICP (see our provider summary). We provide an electronic attendance certificate for other types of certification maintenance.
LEARN MORE
Photo by bee32/iStock
Sign up for our newsletter to get updates on our events.
This webinar is hosted by the Transportation Research and Education Center (TREC) at Portland State University. The research was funded by the Summit Foundation and the National Institute for Transportation and Communities (NITC), a program of TREC and one of five U.S. Department of Transportation national university transportation centers. The NITC program is a Portland State-led partnership with the University of Oregon, Oregon Institute of Technology, University of Utah and new partners University of Arizona and University of Texas at Arlington. We pursue our theme — improving mobility of people and goods to build strong communities — through research, education and technology transfer.