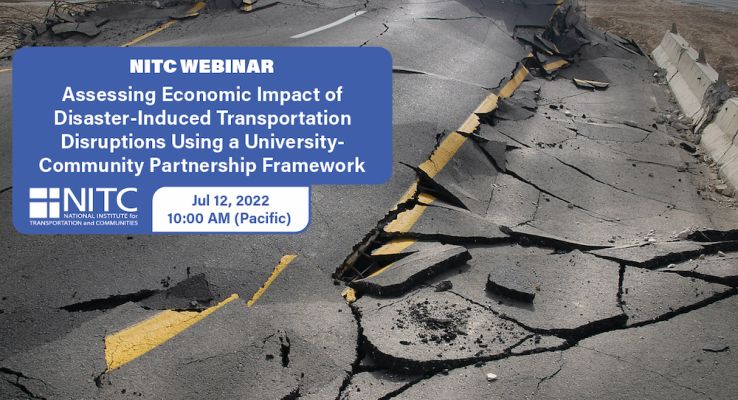 DATE:
Tuesday, July 12, 2022,

10:00am

to

11:00am

PDT
SPEAKERS:
Divya Chandrasekhar, University of Utah
PRESENTATION ARCHIVE
OVERVIEW
Transportation systems play a critical role in maintaining supply chains for effective post-disaster recovery. Modeling the potential economic impact of transportation-related disruptions, therefore, is an important step to promoting pre-event communitywide recovery and resilience planning. But existing supply chain and economic impact models are cost prohibitive and overly sophisticated for use by public sector entities with limited resources. There is also limited understanding of how small and medium enterprises (SMEs) adjust to post-disaster transportation disruption and how this experience influences their future preparedness for similar events. Since SMEs make up a majority of businesses within the US, post-disaster transportation loss can significantly affect the local economy and the recovery trajectory for the entire community.
This project has two objectives:
To develop a collaborative university-community partnership framework for analyzing the economic impact due to transportation disruptions in earthquake country
To examine SME preparedness to such managing such disruptions.
In phase one, the project used the scenario of an M7.0 earthquake in Utah's Wasatch Front and brought together a common set of public sector actors (namely, emergency management departments, metropolitan planning organizations, port authorities, and university research centers) and tools they already use (namely, HAZUS, travel demand modeling and REMI+) to help assess the potential impact of catastrophic earthquakes on the regional economy.
The second phase of the study surveyed 150 SMEs within the top 10 worst-affected industrial sectors identified in Phase 1 to understand how they are currently navigating supply disruptions due to COVID-19 and their future earthquake preparedness. In addition to generating deeper understanding of economic impacts of transportation disruption, the project also develops a collaborative framework that can easily be transferred to other communities that need similar supply chain and economic impact assessments for their resilience planning purposes.
KEY LEARNING OUTCOMES
Understanding of how small and medium enterprises (SMEs) adjust to post-disaster transportation disruption;
Introduction to a collaborative framework for supply chain and economic impact assessments;
How to transfer this framework to other communities where it can be of use.
THE RESEARCH
This webinar is based on a study funded by the National Institute for Transportation and Communities (NITC) and conducted at the University of Utah. Read more about the research: Estimating the Economic Impacts Of Transportation-Related Supply Chain Disruptions In The Post-Earthquake Environment.
SPEAKER
Divya Chandrasekhar, University of Utah
PROFESSIONAL DEVELOPMENT
This 60-minute webinar is eligible for 1 hour of professional development credit for AICP (see our provider summary). We provide an electronic attendance certificate for other types of certification maintenance.
LEARN MORE
Photo by SDubi/iStock
Sign up for our newsletter to get updates on our events.
This webinar is hosted by the Transportation Research and Education Center (TREC) at Portland State University. The research was funded by the Summit Foundation and the National Institute for Transportation and Communities (NITC), a program of TREC and one of seven U.S. Department of Transportation national university transportation centers. The NITC program is a Portland State-led partnership with the University of Oregon, Oregon Institute of Technology, University of Utah and new partners University of Arizona and University of Texas at Arlington. We pursue our theme — improving mobility of people and goods to build strong communities — through research, education and technology transfer.