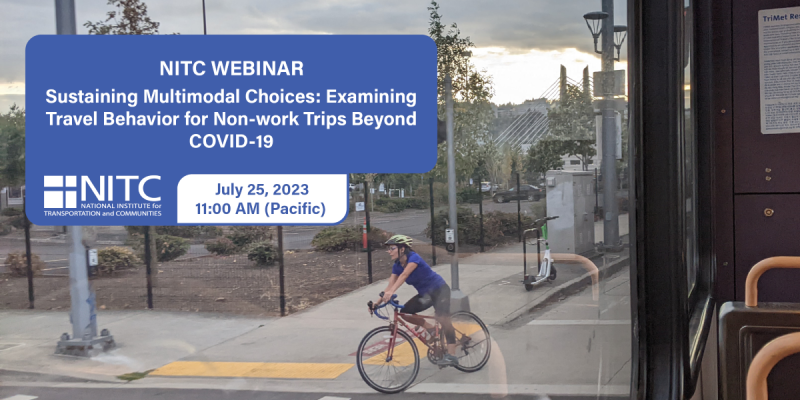 DATE:
Tuesday, July 25, 2023,

11:00am

to

12:00pm

PDT
SPEAKERS:
Yizhao Yang and Rebecca Lewis, University of Oregon
PRESENTATION ARCHVE
OVERVIEW
We present a longitudinal research project using COVID-19 as a natural experiment to examine travel behaviors and attitudes in the Eugene-Springfield Metropolitan Region, OR.
Surveys and interviews were conducted in similar timeframes in 2020 and 2022. Findings reveal that travel activities, including driving, transit, and walking/biking, returned to pre-pandemic levels as society recovered. The pandemic had varying impacts on different modes of travel, with driving likely influenced by the perceived health threat of COVID. Some individuals recognized the feasibility and benefits of alternative modes like walking and biking for certain destinations, leading to less habitual driving.
The study highlights the negative impact on transit users during the emergency period, causing stress and mode switching. These experiences may result in reduced transit use in the future. Increased walking and biking in neighborhoods provide clear benefits, encouraging active travel. However, reduced driving experiences may not generate the same enjoyment or significant changes in driving behavior. To promote less driving, social programs and public campaigns should focus on conveying the social and individual benefits associated with alternative modes of transportation.
KEY LEARNING OUTCOMES
Policymakers should consider the differential impacts of the pandemic on different modes of travel. Understanding the varying needs and preferences of travelers can inform targeted policies and interventions to promote a multimodal transportation system that meets the diverse needs of communities.
Investments in public transit infrastructure and services are crucial to address the negative impact of the pandemic on transit users. Policies should focus on improving the accessibility, reliability, and safety of public transit to regain trust and encourage its use in the future.
Public health measures, such as promoting the perceived health benefits of active transportation modes, can help shape future travel choices. Policy interventions should emphasize the health advantages of walking and biking, while also addressing concerns related to safety and infrastructure.
Public awareness campaigns and social programs should be implemented to educate and inform the public about the benefits of reduced driving. This could include highlighting the environmental, economic, and community benefits associated with alternative modes of transportation, encouraging a shift towards more sustainable travel behaviors.
THE RESEARCH
This webinar is based on a study funded by the National Institute for Transportation and Communities (NITC) and conducted at the University of Oregon. Read more about the research: Sustaining Multimodal Choices: Examining Travel Behavior for Non-work Trips Beyond COVID-19.
SPEAKERS
Yizhao Yang, University of Oregon
Rebecca Lewis, University of Oregon
PROFESSIONAL DEVELOPMENT
This 60-minute webinar is eligible for 1 hour of professional development credit for AICP (see our provider summary). We provide an electronic attendance certificate for other types of certification maintenance.
LEARN MORE
Sign up for our newsletter to get updates on our events.
This webinar is hosted by the Transportation Research and Education Center (TREC) at Portland State University. The research was funded by the Summit Foundation and the National Institute for Transportation and Communities (NITC), a program of TREC and one of seven U.S. Department of Transportation national university transportation centers. The NITC program is a Portland State-led partnership with the University of Oregon, Oregon Institute of Technology, University of Utah and new partners University of Arizona and University of Texas at Arlington. We pursue our theme — improving mobility of people and goods to build strong communities — through research, education and technology transfer.