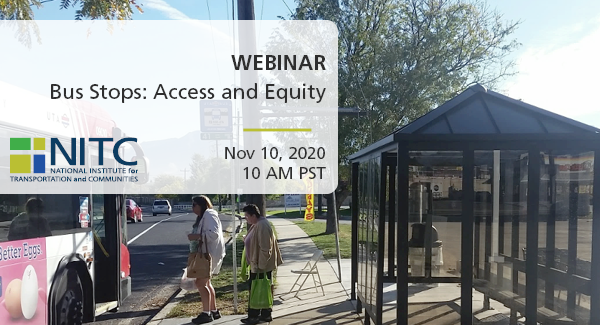 DATE:
Tuesday, November 10, 2020,

10:00am

to

11:00am

PST
SPEAKERS:
Keith Bartholomew, University of Utah
PRESENTATION ARCHIVE
OVERVIEW
Improving bus stops by providing shelters, seating, signage, and sidewalks is relatively inexpensive and popular among riders and local officials. Making such improvements, however, is not often a priority for U.S. transit providers because of competing demands for capital funds and a perception that amenities are not tied to measurable increases in system effectiveness or efficiency. This webinar focuses on the role that bus stops play as the point of first contact between transit agencies and their potential riders, and how the quality of that contact can influence both ridership and accessibility for riders with mobility-related disabilities. The webinar will use results from recent research sponsored by NITC and the Utah Department of Transportation looking at possible impacts that bus stop improvements made by the Utah Transit Authority (UTA) have had on stop-level ridership and demand for Americans with Disabilities Act (ADA) paratransit services. The results demonstrate how investments in bus stop facilities are not amenities, as they are frequently referred to, but essential elements of infrastructure necessary to provide access to transit and, by extension, to opportunities and essential services. Stops are, through this frame, conceptualized as an element of transportation justice.
KEY LEARNING TAKEAWAYS
Bus stop improvements are associated with stop-level increases in ridership and a reduction in demand for ADA paratransit services.
THE RESEARCH
This webinar is based on a study funded by the National Institute for Transportation and Communities (NITC) and conducted at the University of Utah and the University of Arizona. Read more about the research: The Connection between Investments in Bus Stops, Ridership, and ADA Accessibility.
SPEAKERS
Keith Bartholomew, University of Utah
PROFESSIONAL DEVELOPMENT
This 60-minute webinar is eligible for 1 hour of professional development credit for AICP (see our provider summary). We provide an electronic attendance certificate for other types of certification maintenance.
LEARN MORE
Sign up for our newsletter to get updates on our events.
This webinar is hosted by the Transportation Research and Education Center (TREC) at Portland State University. The research was funded by the National Institute for Transportation and Communities (NITC), a program of TREC and one of five U.S. Department of Transportation national university transportation centers. The NITC program is a Portland State-led partnership with the University of Oregon, Oregon Institute of Technology, University of Utah and new partners University of Arizona and University of Texas at Arlington. We pursue our theme — improving mobility of people and goods to build strong communities — through research, education and technology transfer.