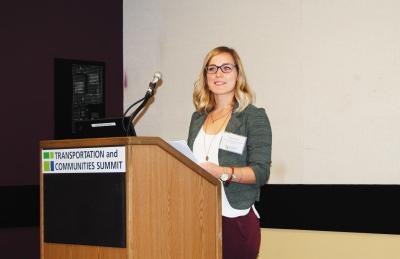 DATE:
Thursday, March 31, 2016,

9:00am

to

10:00am

PDT
SPEAKERS:
Frank Kalpakis, AICP, Principal, Renaissance Planning; Alex Carroll, Research Associate, Center for Urban Transportation Research; and Bob Hillier, Freight Planning Coordinator, Portland Bureau of Transportation
Watch video
This webinar was provided by the Center for Urban Transportation Research at the University of South Florida, a NITC program partner school.
Where livability is a goal of the planning process, freight runs the risk of not being considered except as an afterthought or as something to be excluded. Yet, freight is an integral part of local economic development.
Because economic prosperity is a key characteristic of livable communities, freight must be incorporated into the planning process. A study of the relationship between freight and livability was undertaken for the National Institute for Transportation and Communities in 2015. The project objective was to document case studies and best practices for integrating freight into livable communities and to provide a menu of options for decision makers.
Alex Carroll will provide an overview of the challenges associated with urban freight and will discuss potential strategies to balance freight and community needs. She will also highlight some of the study's key findings, including the importance of transportation and land use integration, interagency coordination, and context-sensitivity in freight and livability planning.
Frank Kalpakis will present the framework used to guide the identification of strategies and roadway design elements to improve freight accessibility and mobility within diverse land use contexts within the Tampa Bay region. It will provide an overview of how the freight function of roadways, land use context, and other design considerations are used to identify design strategies that balance the need of safe and efficient truck movement with community livability concerns.
Bob Hillier will provide an overview of the main elements that make up the City of Portland's freight planning program and how freight transportation issues are addressed through City policy and street design. The key findings from research conducted for preparing the Portland Sustainable Freight Strategy and what was learned from that research project will also be discussed.
---
Alex Carroll is a research associate with the Planning and Corridor Management Team at USF's Center for Urban Transportation Research. Her specialties include multimodal transportation planning, land use and transportation policy, freight planning, livability, and sustainable development. Her recent work includes a national study on integrating freight and livability and the development of a comprehensive model curriculum for university-level transportation planning courses. Ms. Carroll has a Master of Urban and Regional Planning degree from the University of South Florida.
Frank Kalpakis, AICP is a principal at Renaissance Planning with 26 years of planning experience. He has an in-depth knowledge of the federal and state transportation planning processes. Frank's experience covers a wide range of transportation, land use, and resource preservation initiatives including corridor studies, freight movement studies, environmental streamlining, transit planning and transit oriented development, long-range plans and community visioning.. He is effective at working with the public, project stakeholders and decision-makers to develop acceptable, implementable solutions. He gives particular attention to developing multimodal transportation solutions that serve both regional demands for commuters and freight transport and local demands for travel convenience and accessibility. Frank has led numerous planning studies for metropolitan planning organizations, state and local governments, and modal agencies.
Bob Hillier has 30 years of multi-modal transportation planning and project management experience in both Oregon and Florida where he worked for a variety of state and regional planning agencies. For the past 10 years Bob has served as Freight Planning Coordinator for the Portland Bureau of Transportation in Portland, Oregon where he serves as the liaison to the Portland Freight Advisory Committee. In this position, Mr. Hillier has managed a wide range of freight transportation projects and related studies including the Street Design Guidelines for Trucks and other Large Vehicles in Portland, Central Eastside Industrial District Street Plan, Portland Truck Parking and Loading Plan, Regional Over-Dimensional Truck Route Study and the Portland Sustainable Freight Strategy. Mr. Hillier holds a B.S. in Business Administration from the University of Arizona and Master of Urban and Regional Planning from Portland State University.