Defining Livability and Setting Goals for Transportation Agencies
Posted on May 2, 2018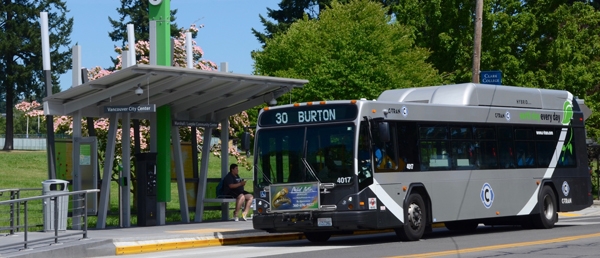 Learn more about this research by viewing the Executive Summary, related presentations, and the full Final Report on the Project Overview page. Tune in Friday, May 4 to hear from the lead researcher at the Portland State University Friday Transportation Seminar (recording made available online).
---
livability
noun  liv·abil·i·ty  \ ˌli-və-ˈbi-lə-tē \
"Livability" is a broadly used term encompassing all the factors that add up to a community's quality of life. It's a key goal in many land use and transportation plans, but it's not always clear how to reach that goal. What makes people feel that their neighborhoods are livable? 
Researchers Rebecca Lewis and Robert Parker of the University of Oregon surveyed over three thousand registered voters in Oregon to understand how Oregonians define and perceive livability. They focused on smaller communities outside of the Portland metropolitan area, places likely to have been overlooked in previous studies.
Residents of three different MPOs in the state—Albany, Central Lane, and Rogue Valley—answered questions about the current state of land use mix, transportation options, and built environment in their neighborhoods. Taking that a step further, they were asked what features their ideal neighborhood would have.
Mirroring previous literature, their regression analysis revealed the perceptions were more influential than objective (GIS) or sociodemographic measures.
The findings offer interesting insights into the determinants of livability, including:
There's a common "trade-off" between housing affordability and livability. When people said that housing affordability was more important in decisions about housing and neighborhood choice, they had more negative perceptions of livability in their neighborhood. Meanwhile, people who prioritized accessibility had a more positive perception of livability.  If affordable housing policy focused on making more livable neighborhoods accessible to all income groups, then the decision for this "trade-off" doesn't need to be made.
Better access to transportation options is important to the perception of livability. This suggests that to improve livability, local governments should support strategic, multimodal transportation investments and policies – particularly pedestrian infrastructure. But, the results suggest that residents may not be tolerant of the densities needed to support alternative modes.
Perceived density is higher than actual density, and in turn density negatively impacts perceptions of livability. Most respondents did not accurately indicate the actual density of the neighborhood they live in. In fact, 28% indicated the correct density range, while 53% of respondents indicated perceived densities that were higher than the actual density. 
Many communities face ongoing issues with housing affordability, and research increasingly points to zoning codes and NIMBYism as key contributors. The results suggest that density alone does not improve livability and has a negative impact on perception. As other studies have shown, density needs to be combined with other services and accessibility to improve livability. 
The next steps? Local and state government can educate citizens about what true density looks like. Researchers should continue to conduct research that gets at the root causes of these perceptions, which may be more strongly related to income and housing tenure than actual density. To read more about this research, see the final report or related presentations in the project overview.
To receive updates about this and other NITC research, sign up for our newsletter.
RELATED RESEARCH
The National Institute for Transportation and Communities (NITC), one of five U.S. Department of Transportation national university transportation centers, is a program of the Transportation Research and Education Center (TREC) at Portland State University. The NITC program is a Portland State-led partnership with the University of Oregon, Oregon Institute of Technology, University of Utah and new partners University of Arizona and University of Texas at Arlington. We pursue our theme — improving mobility of people and goods to build strong communities — through research, education and technology transfer.
Share this: