Clearing the Way for Real-Time Transit Information
Posted on May 10, 2018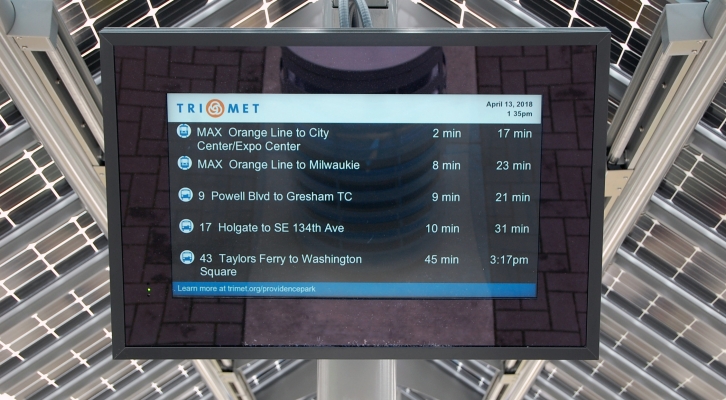 Principal Investigator
:
Sean Barbeau
, University of South Florida
Learn more about this research by viewing the Executive Summary, related presentations, and the full Final Report on the Project Overview page. Hear firsthand from the principal investigator by tuning in for a webinar on August 9, 2018 (recording made available).
---
Every day transit riders ask the same question: when's the next one coming? To answer this question, transit agencies are transitioning to providing real-time transit information through smartphones or displayed at transit stops.
Real-time transit information improves the reliability and efficiency of passenger travel, through:
shorter perceived and actual wait times,
an increased feeling of safety,
increased ridership, and
a lower learning curve for new riders, since they don't have to know the route maps or timetables before they can take a bus downtown.
Although it offers a myriad of benefits for both sides, barriers have prevented some transit agencies from adopting the GTFSrealtime v1.0 technology. GTFSrealtime v1.0 has suffered from a lack of clear documentation and openly available validation tools, which significantly increases the time and effort necessary to create and maintain GTFS-realtime feeds. More importantly, bad data have been shown to have a negative effect on ridership, the rider's opinion of the agency, and the rider's satisfaction with multimodal apps.
A newly published NITC study led by Sean Barbeau of the University of South Florida seeks to remove some of these barriers to make real-time transit info a universal amenity.
Barbeau's project focused on the community-driven creation of the General Transit Feed Specification (GTFS)-realtime v2.0 format, which improves upon the earlier version by offering better guidance for transit agencies, application developers, and automatic vehicle location system vendors. The research team also collaborated with the GTFS community to create GTFS Best Practices.
In parallel to their efforts to standardize practice, Barbeau's team developed two additional tools:
An open-source GTFS-realtime validation tool (GitHub) to allow agencies, app developers and vendors to quickly identify and resolve problems;
A Transit Feed Quality Calculator tool (GitHub) to automatically download and validate a large number of agency feeds.
The next step is focusing on encouraging agencies to use GTFS-realtime v2.0 and the GTFS-realtime Validator, and developing more tools such as a data dashboard that could help agencies and vendors measure the performance of their transit systems. Barbeau also believes that GTFS could benefit from a more formal governance structure going forward, while being careful not to abandon key qualities of the grassroots approach to governance that has served the format well to date.
To learn more about this and other NITC research, sign up for our newsletter.
RELATED RESEARCH
The National Institute for Transportation and Communities (NITC), one of five U.S. Department of Transportation national university transportation centers, is a program of the Transportation Research and Education Center (TREC) at Portland State University. The NITC program is a Portland State-led partnership with the University of Oregon, Oregon Institute of Technology, University of Utah and new partners University of Arizona and University of Texas at Arlington. We pursue our theme — improving mobility of people and goods to build strong communities — through research, education and technology transfer.
Share this: