E-bike Incentive Programs in North America: New Online Tracker
Posted on January 19, 2022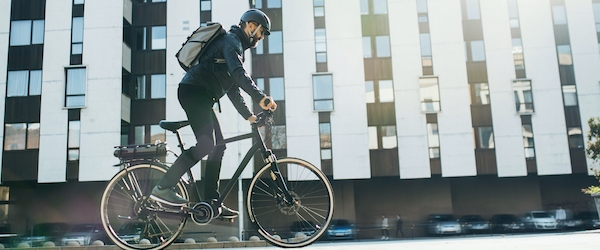 For governments and clean energy advocates looking to encourage people to use e-bikes for transportation, a new online tool from Portland State University researchers offers an overview of the existing incentive programs in the United States and Canada.
The E-Bike Incentive Programs in North America table tracks e-bike purchase incentive programs and key details that can provide a point of reference for the development of future e-bike incentive programs and policies, or for further research on the topic. Read a recent article about the tool in BikePortland.
John MacArthur, researcher at PSU's Transportation Research and Education Center (TREC), led the development of the tool with the help of PSU transportation engineering masters student Cameron Bennett, a 2021 Dwight D. Eisenhower Transportation Fellow.
COMPARING TYPES OF E-BIKE INCENTIVE PROGRAMS
While the tracker shows a wide variety of approaches, Bennett identified Saanich, BC as demonstrating an especially promising model. Their "targeted universalism" approach uses econometric analysis to set appropriate incentive levels for various income brackets, helping those who need it most with the largest incentives.
One of the most surprising findings? Most programs seemed to set their incentive levels "fairly arbitrarily:"
"Many were based on a function of funding available and desired number of incentives, while many others were seemingly based on the $200 precedent set early on by Burlington Vermont. (Burlington's program was developed based on carbon tax savings over the lifetime of an e-bike.) Generally, it seems that little thought was given to the potential of the specific incentive value to induce new purchases that would not otherwise have happened for particular groups or income brackets," Bennett said.
PSU Student Cameron Bennett presents "How E-Bike Incentive Programs Are Used to Expand the Market (PDF)" in a TRB 2022 Eisenhower Poster Session (photo by Jennifer Dill)
One of the most challenging aspects of creating the tracker was that information on funding source, in most cases, was not readily available.
"There aren't enough programs with enough total participation to gain an understanding of the impact and effects of various sizes and delivery methods of incentives. John, Chris Cherry (UTK), Luke Jones (Valdosta State) and I will be conducting a stated preference survey in the coming months to address this gap in knowledge and help better inform future programs," Bennett said.
The tracker is one of several outputs of a larger e-bike project funded by the National Institute for Transportation and Communities with support from PeopleForBikes, and provides key details for each incentive program, including:
Country, State, Location – Location that the program is available in.
Administrator, Admin. Type – The program administrator and the administrator's entity type.
Status – Whether the program is currently active, closed, or otherwise.
Incentive Style – How the incentive amount is determined.
Discount Mechanism – How the incentive value is delivered to the recipient.
Discount Rate – Incentive rate if the incentive is a percentage of e-bike purchase price.
Minimum Purchase/Fee – Minimum required purchase price to qualify for the incentive, or the fee required to participate in loan-to-own programs.
Maximum Incentive – Maximum incentive amount if the incentive is a percentage of e-bike purchase price. Incentive amount if the incentive is a flat rate.
Total Earmark – Total program funding.
Income-Qualified? – Is participation in the program restricted to a certain income level?
Low-Income Option? – Are additional incentives available to people at certain income levels?
Low-Income Threshold – Income limit to receive low-income benefits.
Details/Links – Further details if required for program comprehension, links to program websites or news releases.
Parent/Child Program – Indication of whether a program exists as a sub-program for a larger piece of legislation, or is a 'parent' of other sub-programs.
The tool was developed using web searches, google alerts, and an existing incentive program tracker provided by PeopleForBikes. The list is updated periodically (you can see when the most recent update was at the top of the spreadsheet) to reflect newly-implemented or proposed programs, current program status, or to include new programs as they emerge.
HOW E-BIKE INCENTIVE PROGRAMS CAN EXPAND THE MARKET
In 2019, MacArthur and fellow e-bike researcher Christopher Cherry of the University of Tennessee, Knoxville, together with then-PSU student Michael McQueen, wrote a white paper exploring techniques to develop and structure e-bike incentive programs to reduce one of the biggest barriers to e-bike use: the high cost. "How E-Bike Incentive Programs are Used to Expand the Market" was published in conjuction with a second white paper, "Estimating the Effect of E-bikes On Person Miles Travelled and Greenhouse Gas Emissions."
In Fall 2021, the Chair of the Monterey County Board of Supervisors successfully used these white papers to advocate for a brand new e-bike incentive program that will serve low income residents from 3 counties on the California Central Coast. Through their regional Air Resources Board they are offering a $1,000 incentive for the purchase of an e-bike. "Your work to establish the value of e-bikes was tremendously valuable as I fought to gain support for a local program," shared Board Chair Wendy Root Askew.
Learn more about those research efforts in The E-Bike Potential: How E-Bikes Can Improve Sustainable Transportation.
ELECTRIC VEHICLE INCENTIVE COST AND IMPACT TOOL
The incentive tracker can be useful in conjunction with another online tool, developed by the same research team in 2020: the Electric Vehicle Incentive Cost and Impact Tool. This tool enables policymakers, public stakeholders, and advocates to quickly visualize the potential outcomes of an electric vehicle incentive program made up of several vehicle types. The tool estimates the cost efficiency of a proposed program in terms of the cost per kg CO2 avoided by each mode over the course of one year. It also takes the proposed budget into consideration to calculate the potential number of incentives to be made available and the amount of total CO2 that would be avoided due to internal combustion engine automobile VMT displacement.
Photo by Halfpoint/iStock
The Transportation Research and Education Center (TREC) at Portland State University is home to the National Institute for Transportation and Communities (NITC), the Initiative for Bicycle and Pedestrian Innovation (IBPI), and other transportation programs. TREC produces research and tools for transportation decision makers, develops K-12 curriculum to expand the diversity and capacity of the workforce, and engages students and professionals through education.
Share this: