IBPI faculty workshop brings active transportation to the classroom
Posted on August 7, 2013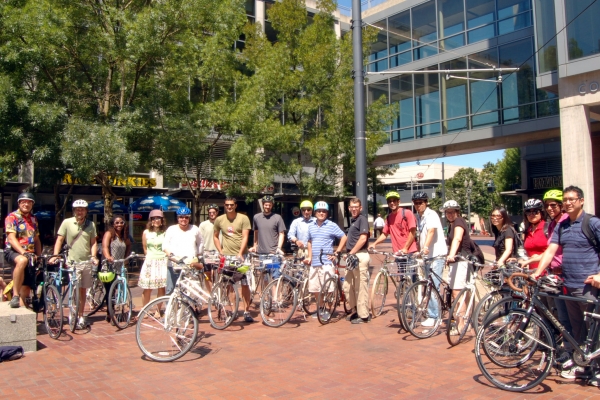 IBPI, or the Initiative for Bicycle and Pedestrian Innovation, is a center for research and learning that is focused on bicycle and pedestrian travel.
Based at Portland State University, the group's aim is to advance bicycling and walking as integral elements of the transportation system in Oregon's communities. July 24 -26 IBPI hosted a faculty workshop to help transportation professors integrate bicycle and pedestrian topics into their courses.
Aimed at faculty members teaching transportation courses within an accredited planning or engineering program at the university level, the workshop included curriculum, guidebooks, and field trips to gain first-hand knowledge of bicycle and pedestrian facilities in Portland, Oregon.
It was kept small, to allow for discussion and interaction. The workshop's 15 participants were first given the chance to describe the existing gaps in their courses and what they hoped to gain from the workshop, then guided through a two-day series of activities tailor-made to fit their needs.
Their goals ranged from specific to general, requesting ways to incorporate GIS analysis into bicycle and pedestrian courses, suggestions for how to integrate active travel performance measures with typical vehicular performance measures, and generally a deeper understanding of bicycle research.
Robert Bertini (Portland State University) shared lessons from the Netherlands, where he spent 2011-2012 living a car-free lifestyle. He also led interactive discussions to address curriculum development and revision.
Peter Koonce (City of Portland Bureau of Transportation) moderated a series of discussions on bicycle planning and engineering topics for curriculum, then led the participants on a three-hour field tour of bicycle facilities. They covered portions of Southeast, Northeast, and Downtown Portland.
Mike Rose (Alta Planning & Design) offered a sample project and lab structure, and Krista Nordback (OTREC) and Sirisha Kothuri (Portland State University) instructed the participants in some basic bicycle counting technologies and took them on a data collection field exercise.
PSU professors Chris Monsere and Miguel Figliozzi discussed ways to incorporate research into the classroom, including the implementation of service learning projects and the creation of partnerships with local practitioners and advocates.
Participants were encouraged to follow up with reports of how they integrated the course information into their teaching.
The Initiative is currently funded by seed money from the Oregon Transportation Research and Education Consortium (OTREC) and Portland State University.
Share this: