IBPI unveils 2014 professional development courses
Posted on January 9, 2014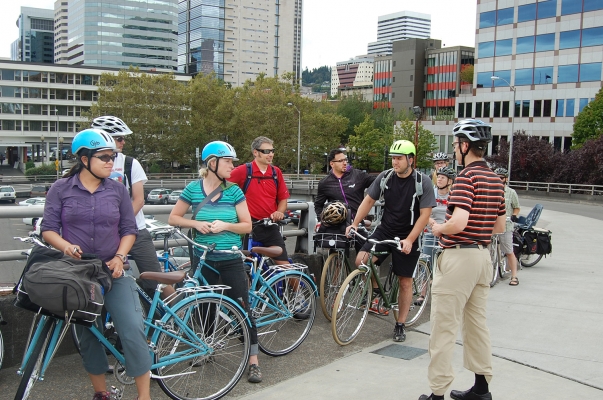 The Initiative for Bicycle and Pedestrian Innovation has unveiled the most ambitious year of professional development offerings in its history.
For the first time, the schedule includes Webinars, with the first taking place Feb. 27. Offerings also include courses and workshops geared toward practitioners and university faculty members. There's also a two-week study abroad opportunity to learn about sustainable transportation in the Netherlands.
The course offerings include a newly added advanced bicycle design and engineering workshop. The workshop is geared toward professionals who have taken the original IBPI course or who serve communities with a developed bicycle network.
"More than 120 professionals have taken the course since 2008," said Hau Hagedorn, who manages the IBPI program. "We've reached the threshold of educating professionals where there's the need to take this to the next level of expertise."
Continuing education credits are available for each workshop and Webinar. Click here for details on the individual course pages.
Registration is now open for IBPI's inaugural Webinar on Feb. 27: "We are Traffic: Creating Robust Bicycle and Pedestrian Count Programs." As agencies looking to improve bicycle and pedestrian infrastructure have learned, it doesn't count if it's not counted. This Webinar explains how to create a robust count program based on new Federal Highway Administration guidance. 
Register for this Webinar here:
http://www.pdx.edu/ibpi/we-are-traffic-creating-robust-bicycle-and-pedestrian-count-programs
Other courses include:
Click on the course title to register. More information on all courses is at:
http://www.pdx.edu/ibpi/professional_development
Space in workshops is limited. Fall courses and Webinars will be posted as they are added. Subscribe to the IBPI list to be notified when new offerings and availabilities are posted:
https://www.lists.pdx.edu/lists/listinfo/ibpi
IBPI is a program of OTREC at Portland State University and a partnership among academic, practice and policy interests that focuses on integrating walking and bicycling into communities through research, education and information sharing.
Share this: