Student Spotlight: 2017 NITC "Student of the Year" - Jordan Preston, Oregon Tech
Posted on December 8, 2017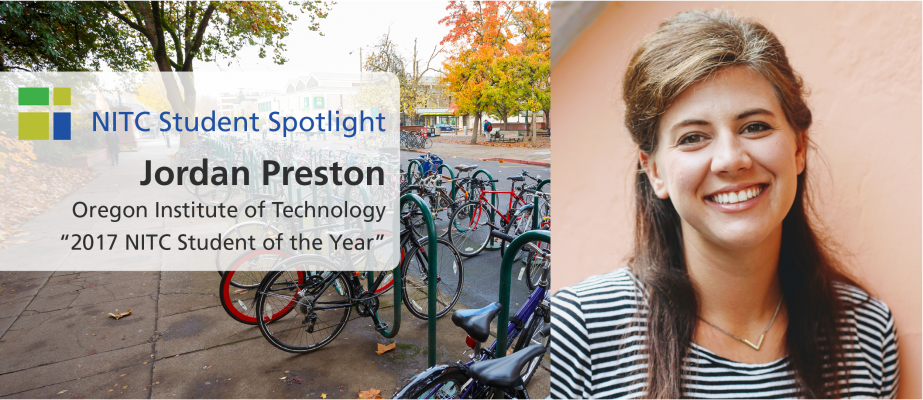 Jordan Preston, Oregon Institute of Technology (Oregon Tech)
Oregon Tech Student Profile | LinkedIn
---
An Update On Jordan at TRB:
NITC Student of the Year Jordan Preston attended TRB's annual meeting in 2018, and we had a conversation with her about the experience. Here are a few of her thoughts.
Do you have a funny story/enjoyable experience from TRB 2018 to share?
One of the highlights of my TRB experience was renting bikes with the rest of the Oregon Tech attendees and using the (awesome!) separated bike lanes to see a bit of Washington D.C. at night. Not only was I interested in actual bike lanes due to my various research projects, it was also just a great time with the professors and students to have a bit of fun!
At TRB 2018, which session(s) stood out/stuck with you the most? 
I particularly enjoyed the poster sessions about bicycling, with content ranging from bike share usage to facility construction to parking shortages. Not only did I end up with an extensive list of articles and projects with more information than I can possibly sort through, it was also an excellent opportunity to talk to other students and professionals. Personally, I learn much more when I am able to ask questions and talk in small groups. 
Anything you learned at TRB that you can see yourself implementing in the future?
In the short term, there are quite a few techniques or observations that I saw regarding bicycle and pedestrian safety that I plan on exploring for my alternatives analysis (graduate project). In the long term, I hope to continue to stay involved with the Advisory Bike Lanes subcommittee. I was able to attend the inaugural meeting, so I am excited to see what work the subcommittee can accomplish over time. ABLs are one of the techniques that I was most impressed with during the bicycle transportation seminar I attended in Europe, and certainly one of the techniques I hope to see implemented here. 
What made you decide to attend the Oregon Institute of Technology?
My dad graduated from Oregon Tech with his civil engineering degree. I heard about the good program from him and many of the other Oregon Tech grads who work at the Washington State Department of Transportation (WSDOT). When I decided to pursue civil engineering, it was the only choice.  
---
Jordan Preston, co-terminal BS/MS candidate in civil engineering at Oregon Tech, has been selected as the 2017 NITC university transportation center "Student of the Year."
She'll be recognized at the upcoming annual meeting of the Transportation Research Board (TRB). Check out what else is happening with NITC and TREC at TRB 2018.
Jordan has been involved with NITC since she arrived on campus, and is now in her third year in an executive role in the NITC-funded Institute of Transportation Engineers (ITE) Student Chapter. She has since been hired on as a Research Assistant on two NITC projects:
Building upon her NITC experience, her graduate project is an alternatives analysis for a complete streets redesign of a key, car-centric corridor connecting the Oregon Tech campus to the downtown business district. This evaluation will incorporate design principles from a summer bicycle transportation course in Europe that was led by Dr. Schlossberg in 2017.
Outside of the world of academia – over the last six years, Jordan has been spending her summers as a Transportation Intern at the WA Department of Transportation. Her work with the WSDOT has taken her through three offices including design, construction, and program management. With her rigorous academic plan, she aims to graduate in Spring of 2018.
---
Jordan is the 12th student of the year (see past students here) since TREC established its university transportation center in 2006. She is being recognized at the Council of University Transportation Centers 2018 Annual Awards Banquet in Washington, D.C. in January 2018, where she's also attending the Transportation Research Board annual meeting. This is an installment in a series of monthly Student Spotlights we'll be shining on students and alumni that are involved with NITC (National Institute for Transportation & Communites).
Share this: