Measuring Perceptions of Social Environments for Walking
Posted on September 30, 2021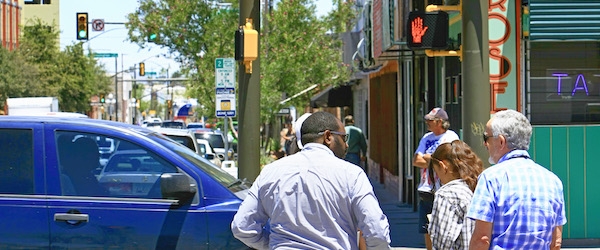 A 2021 article in Health & Place documents the current state of the practice in measuring perceived social elements of pedestrian environments, with the goal of identifying measurement strategies to understand and support walking.
"Measuring Perceptions Of Social Environments For Walking: A Scoping Review Of Walkability Surveys" was authored by Nicole Iroz-Elardo, Arlie Adkins and Maia Ingram of the University of Arizona.
The neighborhood pedestrian environment is an important determinant of physical activity and health. Despite widespread acknowledgment that neighborhoods' social and physical characteristics contribute to a walkable place, constructs and metrics remain focused primarily on the built environment. This scoping review documents the current state of the practice to measure perceived social elements of pedestrian environments in order to identify measurement strategies to understand and support walking, particularly in socially diverse neighborhoods.
The researchers identified 20 survey instruments focused on pedestrian environments, walkability, or physical activity at the local (neighborhood) scale which were designed to capture residents' perceptions of outdoor walking environments. Across the 20 instruments, the team identified and categorized 182 distinct items that measured social environments into four domains (social capital, personal safety, physical signifiers, and general neighborhood descriptors) and thirteen subdomains.
Many items emphasized negative social elements, such as crime and disorder. Only a few items focused on community identity. Most instruments cover some aspects of the social environment well, but few provide a holistic inventory of the social environment across domains and subdomains. Researchers also observed that the state of the practice seems frozen, with most instruments in use having originated in 2010 or earlier.
The paper draws on findings from the NITC project "Access to Opportunities: Redefining Planning Methods and Measures for Disadvantaged Populations."
Photo by csfotoimages/iStock
The National Institute for Transportation and Communities (NITC) is one of seven U.S. Department of Transportation national university transportation centers. NITC is a program of the Transportation Research and Education Center (TREC) at Portland State University. This PSU-led research partnership also includes the Oregon Institute of Technology, University of Arizona, University of Oregon, University of Texas at Arlington and University of Utah. We pursue our theme — improving mobility of people and goods to build strong communities — through research, education and technology transfer.
Share this: