Translating Research to Practice: Five New NITC Projects Launch
Posted on October 1, 2021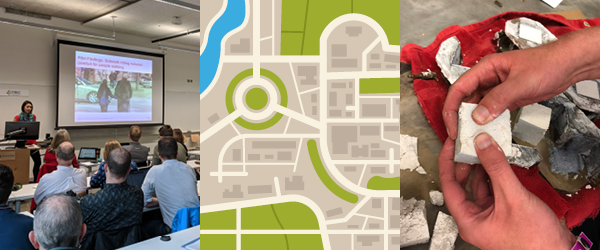 The National Institute for Transportation & Communities (NITC) research consortium, led by Portland State University, introduced a new grant this year. With the extension of the FAST Act, we received one more year of funding, and we're using it to ensure that NITC research makes the impact on practice that we know it can. With that in mind, we invited proposals to build on previous accomplishments by NITC researchers, with the goal of strengthening partnerships with transportation agencies and community organizations and creating resources for practitioners. We've awarded five new "Translating Research to Practice" projects, each aimed at making a concrete difference in transportation practice. The five new projects are:
This project builds on an earlier Oregon Tech project led by Mathew Sleep, which investigated using Mount Mazama ash to make accessibility improvements on unpaved trails. In the original project, researchers conducted lab and field testing to determine the suitability of Mazama ash to act as a natural pozzolan, with promising results. The new project will employ a Mt. Mazama volcanic ash soil amendment to improve the surface stability and firmness of one quarter mile of the Wingwatchers Trail in Klamath Falls.
This project will develop two practitioner-ready tools using findings from an in-progress NITC project, Mobility for the People: Evaluating Equity Requirements in Shared Mobility Programs. In that project, Brown and Howell found that many shared mobility programs face a disconnect between program goals, design, and evaluation, which hampers equity outcomes. To bridge this disconnect, they are developing a comprehensive database of equity requirements across 267 US shared mobility programs, and an Equity Evaluation Framework for cities to evaluate their current shared mobility equity requirements.
For over 25 years, the Portland Bureau of Transportation has partnered with Portland State University to offer the Portland Traffic and Transportation Course – a 10-week course designed to provide local residents with the skills and knowledge to understand and effectively participate in transportation decisions affecting their neighborhoods. In 2015, McNeil developed a handbook as a free tool for anyone wishing to initiate this education effort in their own community. Now, he is working with Keith Bartholomew to launch a community transportation academy in Salt Lake City, Utah. The project will involve adapting the course from the Portland model to suit the unique transportation landscape of the Salt Lake City region, seeking to bring in partners from both the region's municipalities and regional and state transportation agencies.
Earlier this year, Dr. Xiaoyue Liu led the creation of a web-based modeling tool that enables U.S. transit providers to explore the economic, environmental, and social impacts of transitioning their systems to electric buses. As agencies such as Utah Transit Authority (UTA) adopt the model, they could also benefit from a tool that would enable detailed spatiotemporal monitoring of components for the battery-electric bus (BEB) system (e.g. locations of BEBs, the state-of-charge of batteries, charging station energy consumption at each specific timestamp), so that the integration of BEBs into the power/grid system as well as its operating condition can be better understood. To this end, the new project will support the expansion of the visualization tool to allow transit operators/planners to explore the interdependency of the BEB transit system and energy infrastructure.
Kelly Clifton and Kristina Currans have a long history of collaboration around the data, methods, and processes used to plan for multimodal transportation impacts of new development. This project aims to translate research findings from several previous NITC projects into a comic. In conjunction with faculty from the Comic Studies Program at Portland State University (PSU) and independent artists, the researchers will develop a digital and limited print edition comic that translates these concepts into an engaging educational tool.
The National Institute for Transportation and Communities (NITC) is one of seven U.S. Department of Transportation national university transportation centers. NITC is a program of the Transportation Research and Education Center (TREC) at Portland State University. This PSU-led research partnership also includes the Oregon Institute of Technology, University of Arizona, University of Oregon, University of Texas at Arlington and University of Utah. We pursue our theme — improving mobility of people and goods to build strong communities — through research, education and technology transfer.
Share this: