Meet the 2022 NITC Students of the Year: Sadie Mae Palmatier, Melrose Pan, and Cameron Bennett
Posted on January 3, 2023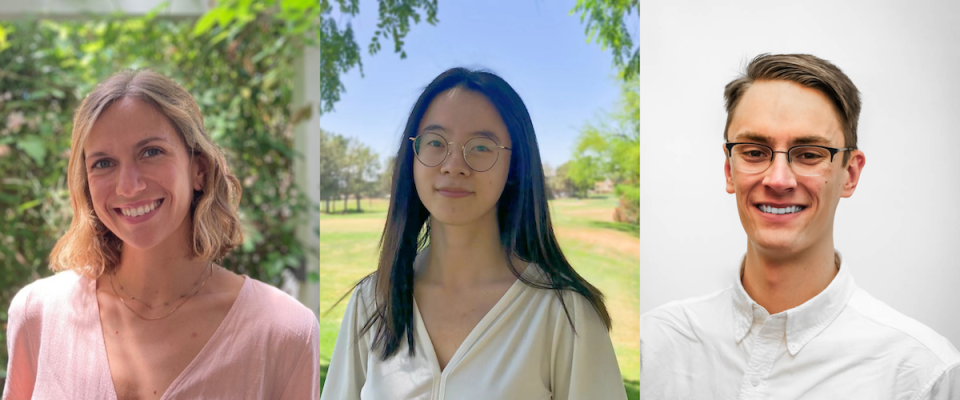 The Outstanding Student of the Year award is presented during the Council of University Transportation Centers (CUTC) banquet at each annual meeting of the Transportation Research Board, where the U.S. Department of Transportation honors an outstanding graduate student from each UTC. Sadie Mae Palmatier will be presented with the award for NITC at this year's CUTC award ceremony. See past NITC Students of the Year.
NITC OUTSTANDING STUDENT OF THE YEAR
Sadie Mae Palmatier, University of Oregon
Connect with Sadie Mae on Linkedin
twelve NITC students to win Eisenhower Fellowships in 2023
.
As the Transportation Planning Intern with WSP's Portland office, Sadie Mae has worked on the Interstate Bridge Replacement Program and helped draft and submit the Oregon Toll Program's Low-Income Toll Report to the Oregon State Legislature. This report provides guidance to the Oregon Department of Transportation and Oregon Transportation Commission on creating an equitable toll program for all Oregonians. Prior to going back to school, Sadie Mae worked in clean energy finance in the San Francisco Bay Area and in recreation/transportation planning in Boulder County Colorado. She holds a BA from Bates College.
Next week at TRB, Sadie Mae will present her research poster, "When Minimum Parking Requirements Go Away, Does Housing Come to Stay? The Relationship Between Residential Development and the Elimination of Minimum Parking Requirements in San Francisco, CA," in Poster Session 2100, "Transportation Planning, Policies, and Processes Posters," on Monday, January 9.
NITC PhD STUDENT OF THE YEAR
Melrose M. Pan, University of Arizona
Connect with Melrose on LinkedIn
Melrose will be presenting work in three poster sessions on Monday, January 9 at TRB: 
NITC MASTERS STUDENT OF THE YEAR
Cameron Bennett, Portland State University
Connect with Cameron on LinkedIn
Cameron will be presenting a poster on e-bike incentive programs in Poster Session 3096, Dwight David Eisenhower Transportation Fellowship Program Poster (Session 2), on Tuesday, January 10.
The National Institute for Transportation and Communities (NITC) is one of seven U.S. Department of Transportation national university transportation centers. NITC is a program of the Transportation Research and Education Center (TREC) at Portland State University. This PSU-led research partnership also includes the Oregon Institute of Technology, University of Arizona, University of Oregon, University of Texas at Arlington and University of Utah. We pursue our theme — improving mobility of people and goods to build strong communities — through research, education and technology transfer.
Share this: