The NITC Guide to the 2023 Transportation Research Board (TRB) Annual Meeting
Posted on January 3, 2023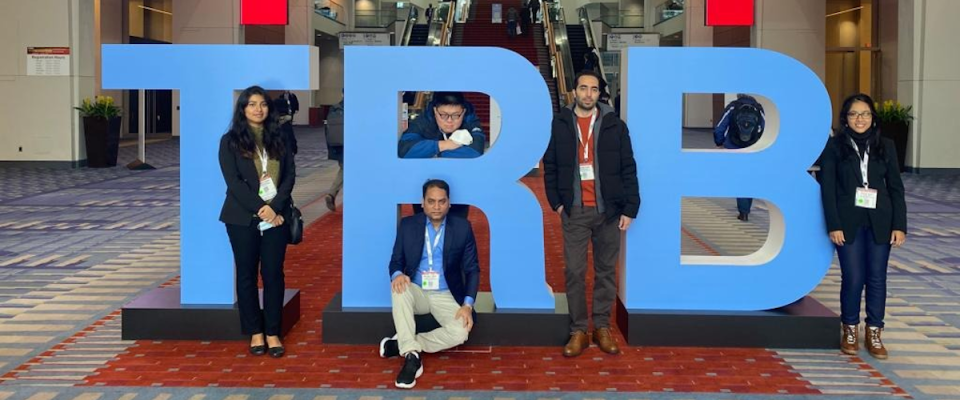 The 102nd annual meeting of the Transportation Research Board (TRB) will be held January 8–12, 2023 in Washington, D.C. Supported by funding from the U.S. Department of Transportation, research from the National Institute for Transportation and Communities (NITC) will be featured at this annual gathering. The spotlight theme for the 2023 meeting is Rejuvenation Out of Disruption: Envisioning a Transportation System for a Dynamic Future.
Below are a few highlights of research being presented by transportation experts from our participating NITC-funded campuses: Portland State University (PSU), University of Oregon (UO), University of Utah (UU), University of Arizona (UA), and University of Texas at Arlington (UTA). Check out our full NITC guide for all of the sessions:
*Due to the evolving status of speaker attendance and TRB programming for next week, please check your TRB schedule for the most current information in the event of changes.*
NITC Research Highlights at TRB 2023
MULTI-UNIVERSITY PROJECTS
Transportation Academies as Catalysts for Civic Engagement in Transportation Decision-making
Mon, Jan 9 (1:30 PM- 5:30 PM)
Nathan McNeil, PSU; Keith Bartholomew, UU; Matthew Ryan, UU
Researchers track the rise of transportation academies in North America, and take a detailed look at two academies: one in Portland, Oregon with a 30-year history, and another recently launched in the Salt Lake City, Utah region.
Evaluating the Potential of Crowdsourced Data to Estimate Network-Wide Bicycle Volumes
Wed, Jan 11 (8:00 AM- 9:45 AM) 
Joseph Broach, PSU; Sirisha Kothuri, PSU; Md Mintu Miah, University of California, Berkeley; Kate Hyun, UTA; Nathan McNeil, PSU; Stephen Mattingly, UTA; Krista Nordback, UNC Highway Safety Research Center; Frank Proulx, Frank Proulx Consulting
This research integrated and evaluated emerging user data sources (Strava Metro, StreetLight, and hybrid docked/dockless bike share) of bicycle activity data with conventional "static" demand determinants (land use, built environment, sociodemographics) and measures (permanent and short-duration counts) to estimate annual average daily bicycle traffic (AADBT).
Exploring Pedestrian Crossing Behavior using LiDAR Sensors at Signalized Intersections
Wed, Jan 11 (10:15 AM- 12:00 PM)
Sirisha Kothuri, PSU; Pengfei (Taylor) Li, UTA
In this study, LiDAR sensors were deployed and tested at two signalized intersections to understand pedestrian crossing behavior. The findings reveal that LiDAR sensors can be successfully deployed at intersection for detecting crossing pedestrians and ADA-compliant pedestrian push buttons can significantly reduce pedestrians' perception-reaction time to WALK signal.
Chronicling Food Shopping During the COVID-19 Pandemic
Tues, Jan 10 (8:00 AM- 9:45 AM) 
Kelly Clifton, University of British Columbia; Amanda Howell, UO; Kristina Currans, UA
This paper presents high-level results from a repeated cross-sectional survey administered to households in five U.S. states chronicling food shopping behavior and preferences during the COVID-19 pandemic. One signifcant outcome of this research is the publicly available data, which can be analyzed at the individual household level.
Portland State University
Evaluation of Red Colored Pavement Markings for Transit Lanes
Tues, Jan 10 (10:15 AM- 12:00 PM)
Nathan McNeil, PSU; Christopher Monsere, PSU; Jennifer Dill, PSU
Many U.S. agencies have experimented with red colored pavement markings in transit lanes to enhance the message that they are restricted to transit vehicles. This study evaluates non-transit drivers' comprehension of and compliance with red colored lane markings in transit priority lanes intended to communicate lane restrictions and appropriate turning and merging locations. Two complementary research methods were used:
an online survey of drivers' comprehension of red colored pavement markings; and,
evaluation of video collected at locations pre and post installation of red colored pavement markings.
In the survey, most drivers recognize the red pavement color as a restriction on use, but most do not associate it specifically with transit, or understand the intended meaning of the broken red bar patterns designed to designate a merge area. However, we observed relatively high compliance rates with the transit lane restrictions, and the red pavement coloring was generally associated with improved compliance. 
University of Oregon
Subjective vs. Objective: The Divergence between Subjective Walkability and Walk Score during the Covid-19 Pandemic
Mon, Jan 9 (8:00 AM- 9:45 AM)
Sian Meng, UO; Yizhao Yang, UO; Rebecca Lewis, UO
Walk Score has been widely used for evaluating walking-based accessibility of a location to various meaningful destinations. This study examines the divergence between subjective walkability measures and objective Walk Scores using data collected by an online survey of residents in the Eugene-Springfield region, OR. This survey took place during the COVID-19 lockdown, a period witnessing a greater level of leisure walking, which has the potential to increase the divergence between subjective walkability measures and the walk scores, affording us greater analytical power to investigate the underlying factors. Results suggest that planners and policymakers applying Walk Score should consider the spatial mismatch and develop other indicators to assess walkability comprehensively.
University of Arizona
The Effect of Vehicular Waste Heat on Personal Heat Exposure
Mon, Jan 9 (1:30 PM- 3:15 PM)
Ash Avila, UA; Nicole Iroz-Elardo, Willamette University; Ladd Keith, UA; Kristina Currans, UA
Understanding the causes of heat in various microclimates in cities is vital to improving human thermal comfort and health in outdoor spaces. This research uses an experimental design to evaluate microclimate heat risk – including ambient air temperature (TA) and wet bulb globe temperature (WBGT) – and approximate personal heat exposure of people 5-10 feet away from idling vehicles. These measurements were taken at a University of Arizona covered parking garage in June 2022 to investigate personal heat exposure attributable to vehicular waste heat while also minimizing the effect of solar radiant heat and wind. Until we transition to an electric fleet, these findings can help inform how transportation professionals design the built environment and manage traffic and transit during summer months to prevent excessive heat exposure for pedestrians, cyclists, transit riders, and other individuals near idling vehicles.
University of Utah
Enable Decision Making For Battery Electric Bus Deployment Using Robust High-Resolution Interdependent Visualization
Tues, Jan 10 (10:15 AM- 12:00 PM)
Gabrielius Kudirka, Uu; Xinyuan Yan, Uuh; Sarah Kunzler, Uu; Yirong Zhou, Uu; Bei Wang, Uu; Xiaoyue Cathy Liu, UU
Encouraged by the advancement of battery technology, the transition from diesel or Compressed Natural Gas to fully zero-emission bus fleets has been the trend in the United States. Policymakers and transit agencies have set up goals to accelerate such transition yet various challenges that are by nature, institutional, technological and/or financial still present themselves. To address those challenges, researchers designed a bi-objective optimization framework that takes cost and environmental equity into consideration. The flexible framework can also be applied to optimize any transit-related objectives. Built upon this framework, we develop a prototype of visualization tool, referred to as the BEBExplorer. Users are able to test, visualize, and explore deployment scenarios given all combinations of constraints on budget, bus schedule, bus routing, locations of charging stations, etc.
University of Texas at Arlington
Evaluation of Bicycle Network Connectivity Using Graph Theory and Level of Traffic Stress (LTS)
Tues, Jan 10 (6:00 PM- 7:30 PM)
Md Mintu Miah, University of California, Berkeley; Stephen Mattingly, UTA; Kate Hyun, UTA
The quality of the bicycle network determines ridership, safety, connectivity, equity, and livability. Very few past research studies investigate network connectivity for individual user types and identify network needs and barriers based on these rider types. This study measures the network connectivity for different rider types using Level of Traffic Stress (LTS) and graph theory concepts. As a symbolic representation of a road network and its connectivity, a graph represents the structural properties of networks and compares one measure over another by taking into account spatial features. In addition, this study defines a bicycle network for different types of riders using LTS metrics based on traffic speed, road geometry, and traffic volume. This study evaluates the city of Portland's OSM bicycle network as a case study. The results indicate that planners and designers need to improve their network connectivity for all types of users to ensure equal active transportation opportunities beyond a particular portion of the network.
Student Highlights
NITC Students of the Year
Sadie Mae Palmatier will be presented with the award for NITC at this year's CUTC award ceremony.
We also award a PhD student of the year and a Master's student of the year, which for 2022 go to Melrose Pan (University of Arizona) and Cameron Bennett (PSU), respectively.
Meet the 2022 NITC Students of the Year: Sadie Mae Palmatier, Melrose Pan, and Cameron Bennett.
Minority Student Fellow
Affordable Housing Provision and Transit-Oriented Development,
along with Nicole Iroz-Elardo of Willamette University and Arlie Adkins of the University of Arizona, in the TRB Minority Student Fellows Poster Session on Tuesday, Jan 10.
Alonso earned his bachelor's degree in architecture from UA in 2019, and has also worked as a junior designer at MASON Architects. Learn more about Alonso in his November 2022 Student Spotlight Interview.
Eisenhower Fellowships
Twelve students attending partner universities of the National Institute for Transportation and Communities (NITC) are receiving Eisenhower Fellowships presented by the U.S. Department of Transportation at this year's TRB meeting. Meet the 2022 NITC Eisenhower Fellows!
NITC Reception
When: 
Tuesday, January 10, 6
 PM Eastern
Where: The Crown & Crow | 1317 14th Street Northwest, Washington, DC, 20005
---
Top photo courtesy of Md. Mintu Miah
The National Institute for Transportation and Communities (NITC) is one of seven U.S. Department of Transportation national university transportation centers. NITC is a program of the Transportation Research and Education Center (TREC) at Portland State University. This PSU-led research partnership also includes the Oregon Institute of Technology, University of Arizona, University of Oregon, University of Texas at Arlington and University of Utah. We pursue our theme — improving mobility of people and goods to build strong communities — through research, education and technology transfer.
Share this: