Student Spotlight: Alonso Carrillo, University of Arizona
Posted on November 8, 2022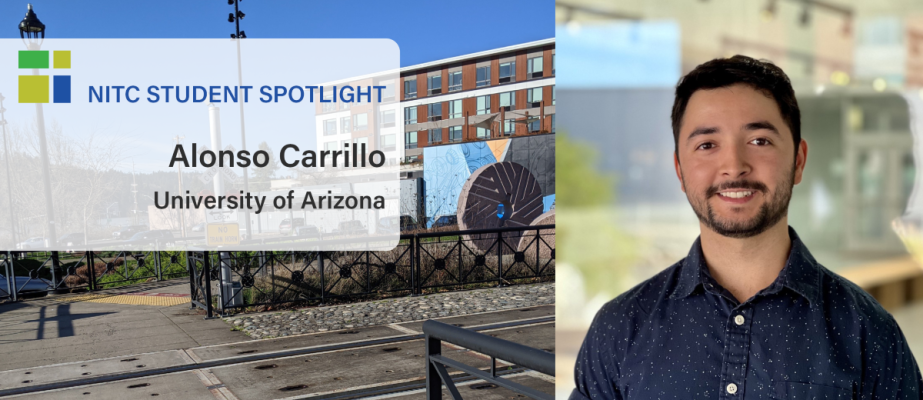 Alonso Carrillo is a dual masters student studying urban planning and real estate development at the University of Arizona (UA), and the recipient of a 2022 fellowship from the UA Center for Applied Transportation Sciences. He is also a 2023 Transportation Research Board (TRB) Minority Student Fellow, and will present his research at the annual meeting of TRB in January. Alonso earned his bachelor's degree in architecture from UA in 2019, and has also worked as a junior designer at MASON Architects.
Connect with Alonso on LinkedIn
---
Tell us about yourself?
My name is Alonso Carrillo, I received my bachelor's degree in architecture at the University of Arizona in 2019 and worked in the San Francisco Bay Area for a short period of time within the architecture field. Since then, I have returned to the University of Arizona to continue my education and expand my knowledge around planning and the built environment. Currently, I am enrolled in a dual master's program for Urban Planning and Real Estate Development.
What (or who) has influenced your career path in transportation?
During my time working as an architectural designer in the San Francisco area, I noted that many high-end developments were located along the BART/Caltrain stations which gives their residents the ability to rely on immediately accessible quality public transit usage versus their own personal vehicles. This insight led me to look further into transit-oriented developments (TODs), and the potential benefits they could provide to low-income households in terms of housing and transportation costs.
You've been working on research related to a NITC project, documenting strategies to create affordable housing units in TODs or TOD-like areas. Tell us about that work?
The paper my co-authors and I worked on highlighted policies and tools that have been documented in various TODs. The policies we focused on were geared towards the preservation and addition of affordable units within TOD areas. Some of these methods included land-banking, creating overlay zones, in-lieu fees, and reduced parking requirements for new developments. We've found that planning for TODs well in advance can help keep land acquisition costs down, and the savings provided can allow developers to budget more affordable units within their developments. The combination of methods previously mentioned are some of the prominent policies and strategies used to promote affordability within TOD areas.
After graduation, what future work do you envision doing in transportation?
Post-graduation, I plan on seeking employment with a firm that specializes in the development of mixed-income TODs. I hope to secure a position that will expose me to the architectural design and real estate development of mixed-income TODs. I believe this would be a good nexus between my architecture, planning, and real estate background. Given the growing trends in TOD, I believe there should be plenty of opportunities for employment that I can apply my skills and education towards.
This is an installment in a series of monthly Student Spotlights we're shining on students and alumni that are involved with National Institute for Transportation & Communities (NITC) universities. NITC is a university transportation consortium funded by the U.S. DOT, and is a Portland State-led partnership with the University of Oregon, Oregon Institute of Technology, University of Utah, University of Arizona, and University of Texas at Arlington.
Share this: